Jacky Ruddock- judge (and owner since April 2019)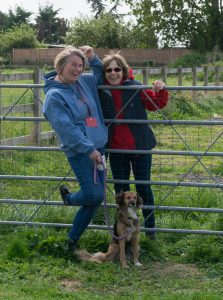 I have always been fascinated by animals; my two main passions being dogs and tapirs! Over the last 30 years I have trained my own and other people's dogs for T.V work, Obedience, Agility and TD Rally®. Having retired from teaching, I spend a lot of time working 1:1 with specific behavioural issues. I particularly enjoy the challenge of working in a positive manner with reactive dogs. I am a Kennel Club Accredited Instructor(CD).
Over the last few years I have been actively involved in Tapir Conservation and I am a member of The Tapir Specialist Group. I have spent time in Peru training a tapir living on an ecological project and have recently been involved in a research project in The Pantanal.
I am passionate about Talking Dogs® Rally and love meeting like-minded people who enjoy having fun with their pet dogs in a non-pressured environment.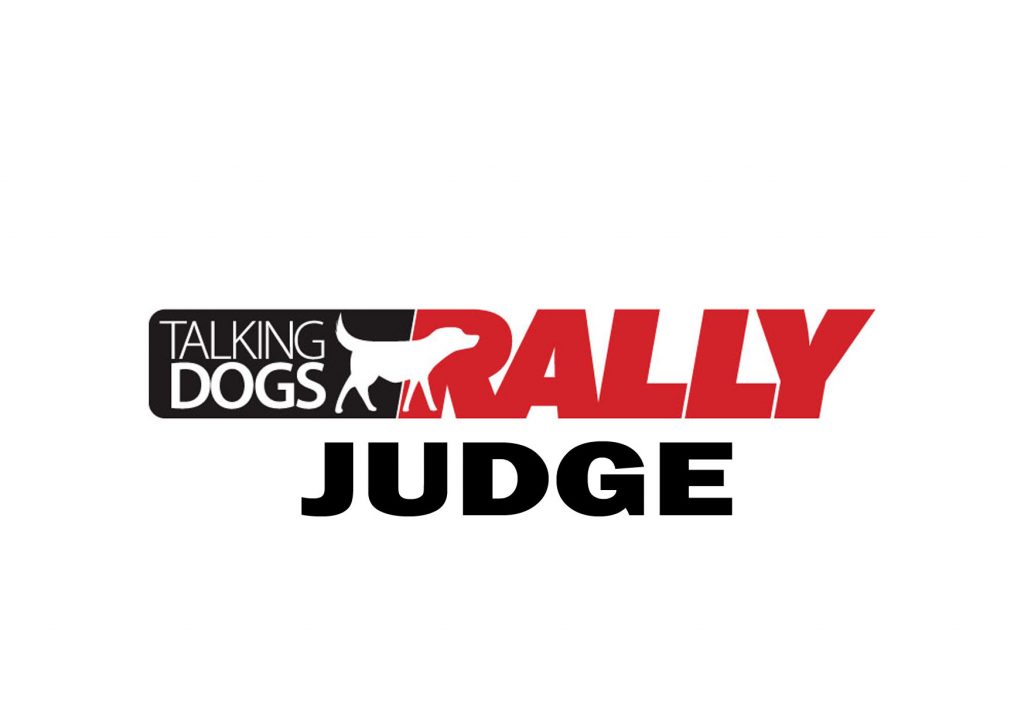 Tanya Butler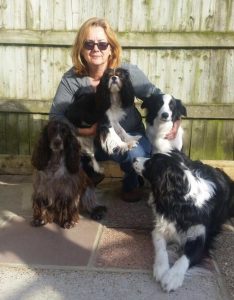 Tanya Butler – in her own words……
I have competed in Obedience, Flyball, Talking Dogs (TD) Rally and Kennel Club (KC) Rally as well as training my little working cocker spaniel, Flick, as a Search and Rescue Dog. I now breed and hope to show my Cavalier King Charles Spaniels, Meggie and Hoopa, as well as working my border collie, Viva, in Obedience. Flick is pretty much retired from competition now, but occasionally still competes in TD Rally in veteran levels. I am a KC and TD Rally judge. I have experience in teaching pet dog owners in basic obedience, competition Obedience, KC and TD Rally, Scentwork, Search and Tracking as well as gundogs.
Rhia Butler
Rhia Butler – in her own words….
I have been instructing dog training classes and canine behavioural training for ten years. I trained my first dog, Barney, when I was just six years old. I currently have three dogs of my own: a border collie called Chaos; a little rescue lurcher called Eevee, and a rescue Pomeranian called Luxio. I am a Talking Dogs Rally judge and compete when able; I also have experience in competing and training Obedience, Agility, Flyball, Scentwork, Canicross and Tricks. From a very young age I knew I wanted to work with animals; I fully intended to become a veterinary surgeon but my passion for dogs and all things canine quickly became my obsession….. the way they think, problem-solve, their social and familial interactions completely fascinate me and I am constantly amazed by them. Every dog that I work with teaches me something new, as no two dogs are the same. True, I've probably come across pretty much the whole gamut of behavioural issues that dogs present, but each has its own particular idiosyncrasies that make each case unique and I love every single one of them….
Amie Matthews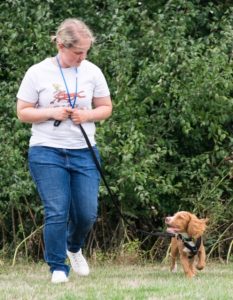 Amie Matthews-in her own words…
I have always lived with dogs. My family is involved with training, working and breeding dogs and I have inherited this passion. From attending Young Kennel Club camps to working gun dogs and training pet dogs, I have always been interested in trying new activities with my dogs. I love Talking Dogs Scentwork®, as does my WHP x springer, Yogi, and it was through this that I became interested in TD Rally®. A late convert to TD Rally®, I now compete with two of my dogs, Percy the labrador and Tablet my young cocker spaniel. During the last few years I have been helping Pam in TD Rally® HQ, inputting all the results to the database and sorting out the rosettes, in addition to stewarding and even hosting a trial myself. This has given me a thorough working knowledge of how the sport functions and how best to help all those involved. Becoming a Judge was the next step, one that I was pleased to take.
Susan Coulstock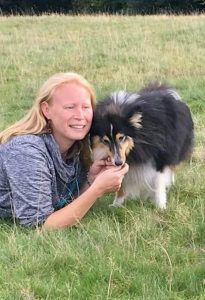 Susan Coulstock-in her own words…
I first got interested in dogs and training through my mum's involvement with a dog training club when I was a child. In 1990 I took an active role in home training and Breed Showing our own dogs. I soon realised, even having done at well at breed shows including Crufts, that I really enjoyed Obedience training more and that Breed Showing bored me. I therefore took the obedience route and started working my dogs, eventually learning to train other people and their dogs.
In around 2011 some of our class members had been to a TD Rally training day and encouraged us to take a look. Both Mum and I fell in love with the sport and took it on in the early days. I since took other routes and the TD training took a side seat. I picked TD Rally up again with Jacky last year and decided to take a more active role; running vital training sessions and becoming a judge.
I currently own a 4yr old Shetland Sheepdog called Ricky and a 1yr old Maltese crossbreed called Buddy. I also work a friend's dog Max who is an 8yr old Lhaso Apso. Ricky and Max have their L1 title and are working in Pre-L2 now. Little Buddy has a couple of scores on the board in L1 too.
I look forward to seeing everyone at the trials in 2020!
Talking Dogs Rally® is a registered trademark