Jacky Ruddock- judge (and owner since April 2019)
I have always been fascinated by animals; my two main passions being dogs and tapirs! Over the last 30 years I have trained my own and other people's dogs for T.V work, Obedience, Agility and TD Rally®. Having retired from teaching, I spend a lot of time working 1:1 with specific behavioural issues. I particularly enjoy the challenge of working in a positive manner with reactive dogs. I'm a member of the Kennel Club Accredited Instructors Scheme working towards accreditation. Recently I fulfilled a dream and spent 6 weeks working on an ecological reserve in Peru training a tapir!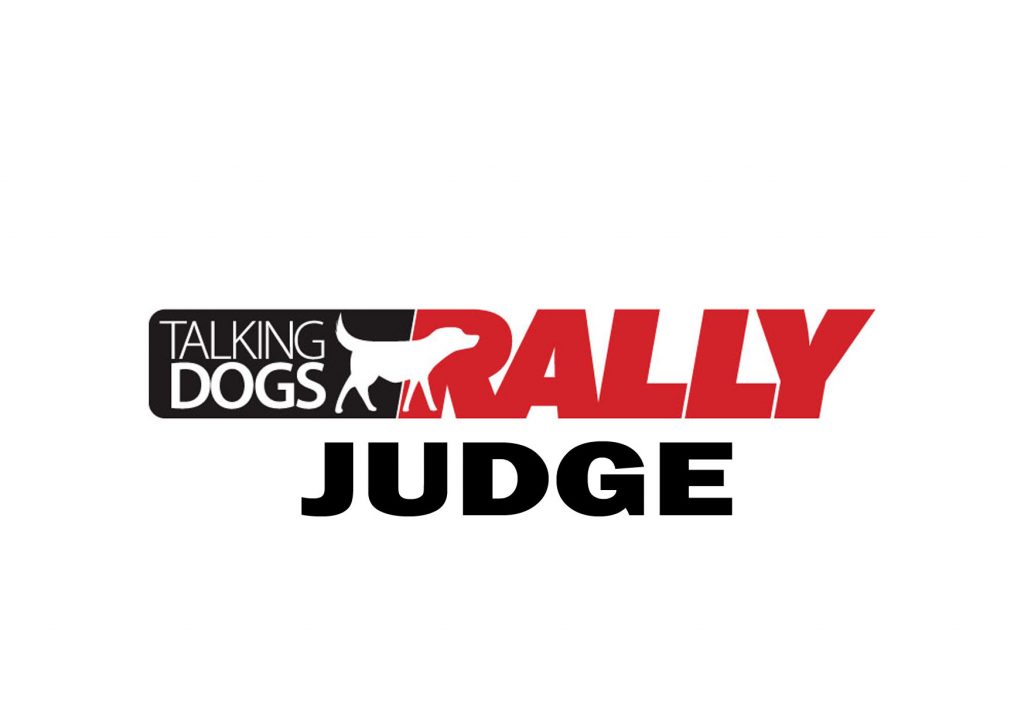 Pam Mackinnon
Pam Mackinnon is the person reponsible for bringing Talking Dogs Rally® to the UK and was the director from 2010- April 2019. She has lectured and tutored for the Association of Pet Dog Trainers (APDT), Centre of Applied Pet Ethology (COAPE) and Hill's Pet Foods at their Veterinary Healthcare Advisor Seminars.

When she's not rallying, Pam spends her time travelling around the country teaching pet dog owners about scentwork. In keeping with the ethos behind TD Rally®, TD Scentwork encourages owners to give their dogs a challenging, rewarding and fun life through activities requiring human-canine co-operation. Pam is frequently asked by the media to give advice and comment on dog training behaviour. She is an author, with titles including "How to turn your pet dog into a detector dog" "Think Dog", "The Puppy Class", "Jackpot!", "Handle with Care", "Beat the Bark" and the Talking Dogs manuals "Raising your Puppy" and "Training the Adult Beginner." Pam shares her home with Cherry Blossom, Labrador, Ella, JRT, and Pan, the world's most fabulous ginger cat.

Tanya Butler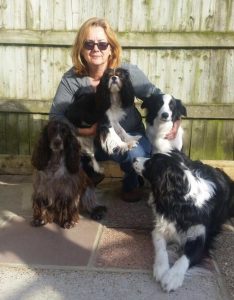 Tanya Butler – in her own words……
I have competed in Obedience, Flyball, Talking Dogs (TD) Rally and Kennel Club (KC) Rally as well as training my little working cocker spaniel, Flick, as a Search and Rescue Dog. I now breed and hope to show my Cavalier King Charles Spaniels, Meggie and Hoopa, as well as working my border collie, Viva, in Obedience. Flick is pretty much retired from competition now, but occasionally still competes in TD Rally in veteran levels. I am a KC and TD Rally judge. I have experience in teaching pet dog owners in basic obedience, competition Obedience, KC and TD Rally, Scentwork, Search and Tracking as well as gundogs.
Rebekah Watkins
I've owned, trained and enjoyed a variety of activities with my dogs since being given my first dog when I was 10. Since then I have never been without a dog but always a Labrador. Over the past 20 years I have bred several litters and enjoyed success in the show ring (qualifying most of my girls for Crufts each year over the past 5 years). I decided to work towards becoming a qualified dog trainer and also tried a bit of Rally obedience a few years ago. TDR called to me and I have been hooked ever since. I have worked my old girl, Sophie who is now retired. Juno, Tempe and Fleur (and the most stubborn of all Gracie) also participate in Rally; however, since becoming a judge I have focused on my lovely boy Morse for the past couple of years. Yes, I have 6 Labradors and I love them all. I love participating in TDR Rally and becoming a judge has been a real privilege.
Rhia Butler
Rhia Butler – in her own words….
I have been instructing dog training classes and canine behavioural training for ten years. I trained my first dog, Barney, when I was just six years old. I currently have three dogs of my own: a border collie called Chaos; a little rescue lurcher called Eevee, and a rescue Pomeranian called Luxio. I am a Talking Dogs Rally judge and compete when able; I also have experience in competing and training Obedience, Agility, Flyball, Scentwork, Canicross and Tricks. From a very young age I knew I wanted to work with animals; I fully intended to become a veterinary surgeon but my passion for dogs and all things canine quickly became my obsession….. the way they think, problem-solve, their social and familial interactions completely fascinate me and I am constantly amazed by them. Every dog that I work with teaches me something new, as no two dogs are the same. True, I've probably come across pretty much the whole gamut of behavioural issues that dogs present, but each has its own particular idiosyncrasies that make each case unique and I love every single one of them….
Amie Matthews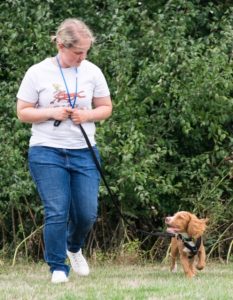 Amie Matthews-in her own words…
I have always lived with dogs. My family is involved with training, working and breeding dogs and I have inherited this passion. From attending Young Kennel Club camps to working gun dogs and training pet dogs, I have always been interested in trying new activities with my dogs. I love Talking Dogs Scentwork®, as does my WHP x springer, Yogi, and it was through this that I became interested in TD Rally®. A late convert to TD Rally®, I now compete with two of my dogs, Percy the labrador and Tablet my young cocker spaniel. During the last few years I have been helping Pam in TD Rally® HQ, inputting all the results to the database and sorting out the rosettes, in addition to stewarding and even hosting a trial myself. This has given me a thorough working knowledge of how the sport functions and how best to help all those involved. Becoming a Judge was the next step, one that I was pleased to take.
Talking Dogs Rally® is a registered trademark