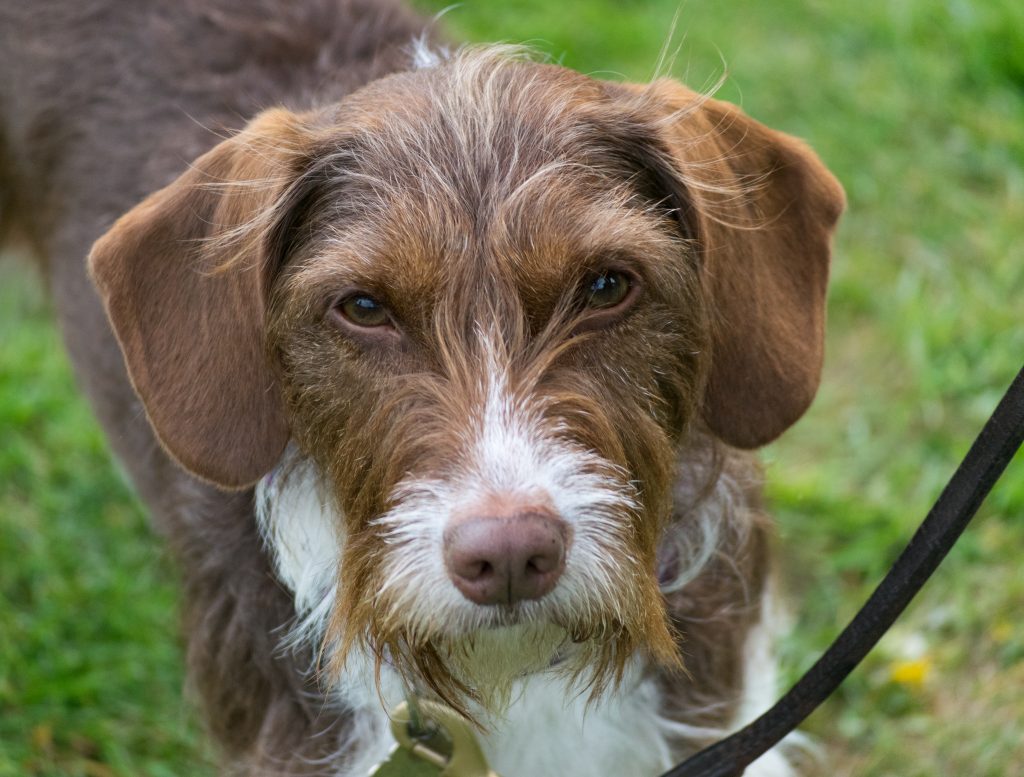 Let's Go Manor Trial, August 6 2022- Blog by Judge Jacky Burden 
Well the sun certainly shone! Huge well done to all those taking part who showed such care & attention to their dogs, making sure their welfare was more important than results. It truly was a delight to see people turning to training rounds because their dog was stressed or confused or hot or just too distracted.
Ring 1 wasn't easy, with distractions on 3 sides & some good sniffy places too! However there were some fantastic results. Gill & Molly with a Perfect 210 & their L1 Championship & Hannah & Rubble, also with a Perfect 210 & their Puppy Championship, as well as many Awards of Excellence & Titles.
There were several teams on just their 2nd trial, plus some venturing to a live TDR trial for the 1st time. We had 6 month pups & veterans & all shapes & sizes – so good to see. Some handlers were feeling really nervous but hopefully will feel more at ease in the future.
I loved seeing Rogue & Lucy Lulu, both dogs who have been worried, at times in the past, working in a relaxed manner & with confidence to gain their VL1 Awards of Excellence & Titles. These were also achieved by rather newer teams Coral & Charlie in VL1 and Clare & Isla in L1. It was great to see a few novice teams who did not gain qualifying rounds in the morning, go on to achieve them in the afternoon.
Amazingly, the signs which caused the most difficulty were the 270s with several teams executing them in the wrong direction! A slightly angled route to the Finish sign, also caused some teams a loss of points. This sign needs to be passed within 60cms/2 ft, as with all the others.
Well done to everyone – those who titled, those with rosettes, those who swapped to training rounds & those who coaxed their dogs round the course in the heat. It was done in true TDR style!
Overall, a super trial. Huge thanks to Dorothea & her team & other participants who helped with ring stewarding, etc.
Northallerton Trial – 30th and 31st July 2022– by Judge Cristen
Sunday 31st July was my first Talking Dogs Rally judging appointment and I had a great day.
Since competing in my first trail in 2017, where I really had no idea what I was doing, but absolutely loved it, I was on a mission to get more people taking part in Talking Dogs Rally 'up north' and to work towards becoming a judge. I was delighted last year when Jayne contacted me to see if I'd be interested in co-hosting a trial at Positively Canine's fabulous venue in Northallerton (Thanks Jo for giving us exclusive access for the weekend). This was our second trial here and although I'd only met some people in April it was like being back with old friends – Talking Dogs Rally really is a friendly sport.
So, the time had come for me to judge my first rounds; as I welcomed Jo and Gilbert into the ring, for their puppy round, I turned round to see Jacky, Amie and Jayne all observing – no pressure there then! Gilbert kept Jo on her toes and had a great time in the ring successfully achieving their Puppy Championship.
We had all weathers throughout the day, starting off in the rain (I was glad I'd invested in a waterproof clipboard) and finishing with me needing to put suncream on. The afternoon round proved a little trickier for most teams, but it was also everyone's fourth round of the weekend and it had got a little warmer.
It was a great day with some fabulous teams, many of which had also been at the April trial. I was very impressed with the improvement throughout in both the handlers' confidence and teamwork in only a few months, well done to you all.
A few thank yous are in order. Firstly thanks to Emma, Gemma and Jane who helped me set up and take down my courses, you are stars. To Jacky, Amie and Jayne for making me feel so welcome and for the good laughs throughout the day. Finally an extra special thank you to Jayne for suggesting the collaboration, for all the hard work you put into organising the trial and for your encouragement – I look forward to co-hosting more trials with Jayne over the coming months, so watch this space!
Thanks
Cris
Northallerton Trial – 30th and 31st July 2022– by Judge Jayne
This was the second trial hosted at the amazing venue of Positively Canine based near Northallerton, North Yorkshire, and it was equally successful as the first.
The weather changed frequently and one moment we had wet weather gear on, the next we were applying sun tan lotion!
This trial venue mostly brings together rally teams from both Positively Canine clients and also Ruff Diamond Dog Training clients who are based in Newcastle Upon Tyne, and it was especially lovely to see Sara Davies travel up from Lincolnshire to enter this trial with her two amazing dogs Lexi and DJ.
When I first started working my own dogs in Talking Dogs Rally, I thoroughly enjoyed watching experienced rally teams work their rounds, and this enjoyment remains today. So, it was really good for the new teams in our area to see Sara working her rounds at this trial, and more importantly see the fun and challenges of the higher-level exercises in a live trial environment.
My first Puppy/Vet L1 and L1 course on the Saturday was designed to give the teams flow and confidence, followed by a more challenging course for the handlers to negotiate in the afternoon. I was very pleased to see that all the teams raised their performance in response to the afternoon course and demonstrated growth with very competent handling skills enabling their dogs to give their very best.
I would like to give a shout out to Jonathan, who stepped into the Table Steward role on Saturday and did a sterling job of keeping us all under control and on the right track, and a huge thank you to Joanna of Positively Canine for sole use of this lovely venue.
So, at the conclusion of our first two trials, we have a number of teams who have gained their Puppy Championships and moved up into Level 1, teams who have achieved their VL1 Championships, a number of teams are progressing towards their L1 Championship, and one team has moved into VL2, which is much more than we set out to achieve when we decided to host trials "Up North".
I am very grateful to Jacky and Amie for travelling up to support our trials, even if the final VL3 course that Jacky designed totally blew all of our minds!
Finally, I want to thank each of the teams that entered the trial, I am incredibly proud of each and every one of you for pushing yourselves to test the skills that you have learned, and most importantly, thank you for bringing a tremendous amount of fun with you. Long may this continue.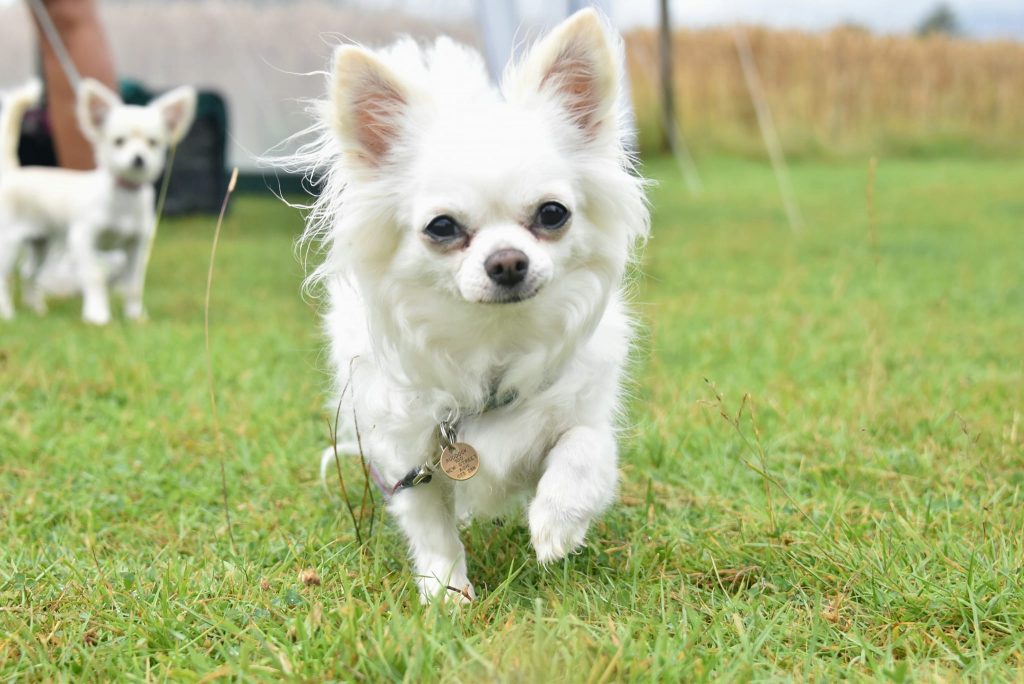 Chichester Trial-10 July 2022
On Sunday I had the pleasure of judging on a beautiful sunny day in Chichester. Competitors quickly erected 'tent city' providing shade, paddling pools and ice blocks for the dogs and themselves. Everyone was sensible and put their dogs' needs first, ensuring that they practiced in the shade and returned to the cool as soon as they had finished working their rounds.
As always this trial was extremely well organised and ran smoothly with the help of table and ring stewards keeping the judges on track!
Most teams were able to pull off respectable rounds despite the heat and the odd footballer across the field!
It was great to welcome back our Armchair Pets and other longstanding members including Rachel and Emma who were competing for the first time since the pandemic.
Our new members were a joy to watch and judge, you all did yourselves proud. Particular mention must go to Kim and her Frenchie Cody who is our first competitor on wheels. Cody competed on equal terms with the other dogs and managed to achieve an Ace- well done Team Cody.
The following teams all scored a perfect 210- Dorothea and George, Dorothea and Skye-Mouse, Jojo and Mya (x2), Jojo and Meggie, Lisa and Rocco, Lina and Sidney(x2) and Gill and Molly. Well done all of you. I believe that Jojo is the first handler to be awarded 3 perfect scores at one trial- no mean feat!
A special mention must go out to Jacky and Amber who were awarded their L3 Championship. It is certainly not easy to complete a Level 3 which requires a total of 18 scores; congratulations Jacky and Amber.
Many thanks to Tanya and Rhia for judging all day in the heat and for covering for me when I was held up in traffic. Our biggest thank you must go to Jacky B and all at Armchair Pets for their hard work and superb organisation. Looking forward to next time at this great venue. Jacky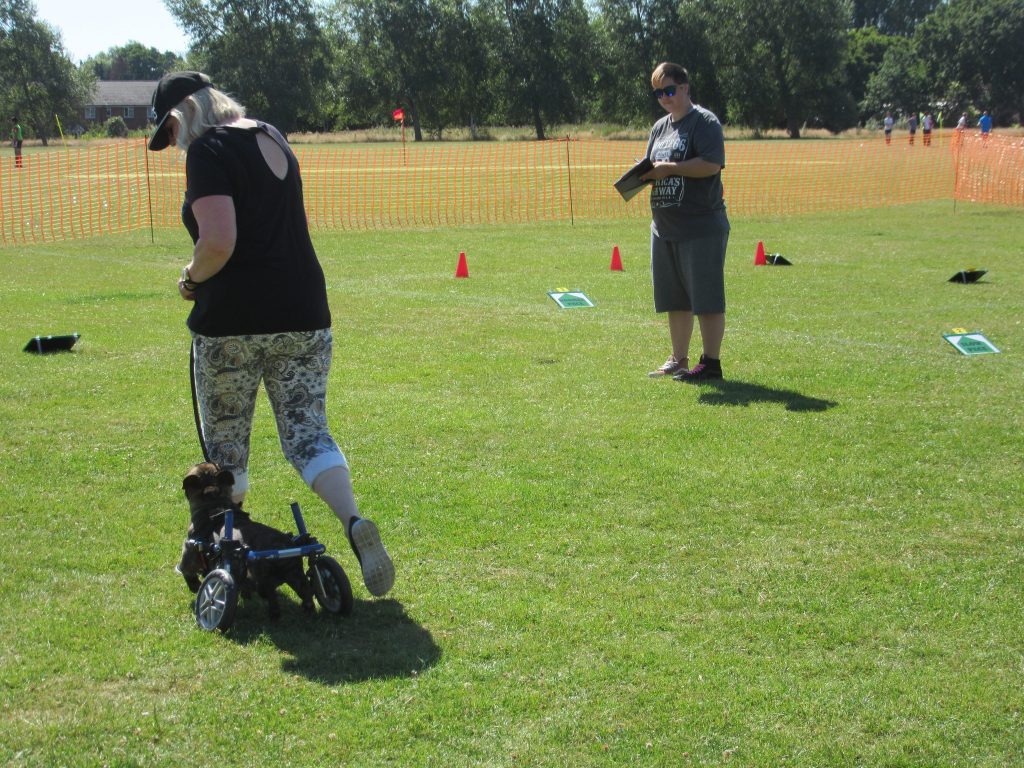 Mini Trial, Hailsham-July 2022
I had the pleasure of judging an evening Mini Trial in Hailsham,East Sussex which was attended by 9 teams. As it was a warm evening we had to juggle our plans slightly and ended up setting up the course on a rough hardstanding in the shade rather than on grass in the sun. This surface certainly seemed to suit the dogs who, without exception, worked happily.
Despite only recently embarking on their TDR journey, all teams achieved a qualifying score and were thrilled with their results. I particularly enjoy judging a range of different breeds so I was in my element here with sparky little Crossbreeds, Whippets, a Springer Spaniel and a Rottie! The teams have been well coached and already have a good understanding of loose TDR working style. I look forward to judging the teams later in the year and hope to welcome these new members to a regular trial in the future. Thank you Lyn and well done all!
A lovely piece shared by one of our newer members Ruth Heelan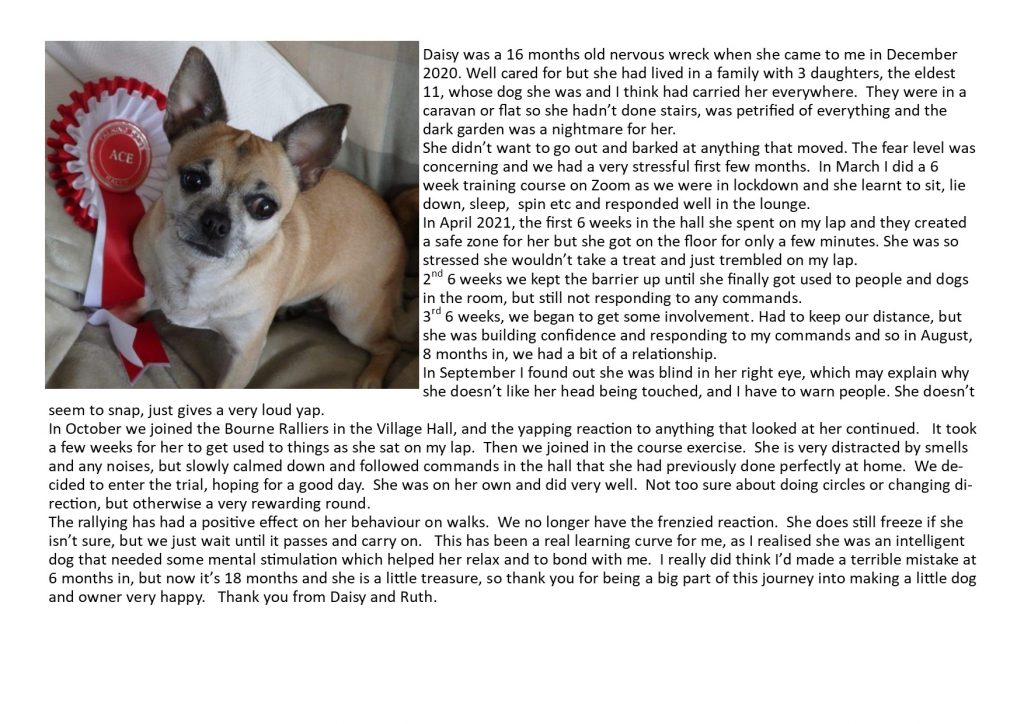 Isle of Wight Trial-June 2022 Blog by Rhia Butler
What an amazing weekend! The weather held off for us and I even got a tan (partly). I always love coming to the Island to judge as the atmosphere is just the best. The weekend is so well run and the lunch is divine. Thank you to Tessa, Barbara and Pauline for everything you do, you are the ones who make the trial and do all of the background work that goes into running such a fantastic weekend.Although we come and judge, you are the ones that make it happen! I would like to say a huge thank you to Yvonne, who let us crash at her home and made us feel welcome.
Almost everyone that competed over the weekend walked away with red rosettes and quite a few perfect scores given. I have a few people I would like to give a special shout out too; first is Kristie with Quinn, this team are just the best and Kristie has worked so hard with Quinn. Whenever they walk into the ring there is just pure joy to be had. The most memorable is the fast pace in my course on Sunday, I haven't laughed like that for a long time. My second shout out is for Deborah and Rumble, such a fantastic team and Rumble managed to achieve a perfect score, she worked her little socks off. My third is for Liz and Benjamin, this was the first ever trial for Liz and the bond she has with Benjamin is so lovely to see. 4 reds over the weekend and an AOE and a Puppy Title! You did so well and I cant wait to see Liz and Benjamin in the future. My last shout out is to everyone, without you all the weekend wouldn't be as good. Liz Banks, Linda Judge and Neil, Sonya Wright, Sue Morris and everyone that helped, you are all amazing! I wish I could name you all but I'll get told off for my word count. A few things that I picked up over the weekend is luring the stands, you need to make sure your hands or feet are back at your side before the dog has completed the motion. The other is failure to move, you all need to make sure that the dogs are ready to go before you move off, this was shown in many dogs still eating their treats as the handler moved off. Just be careful as they are points that don't need to be lost.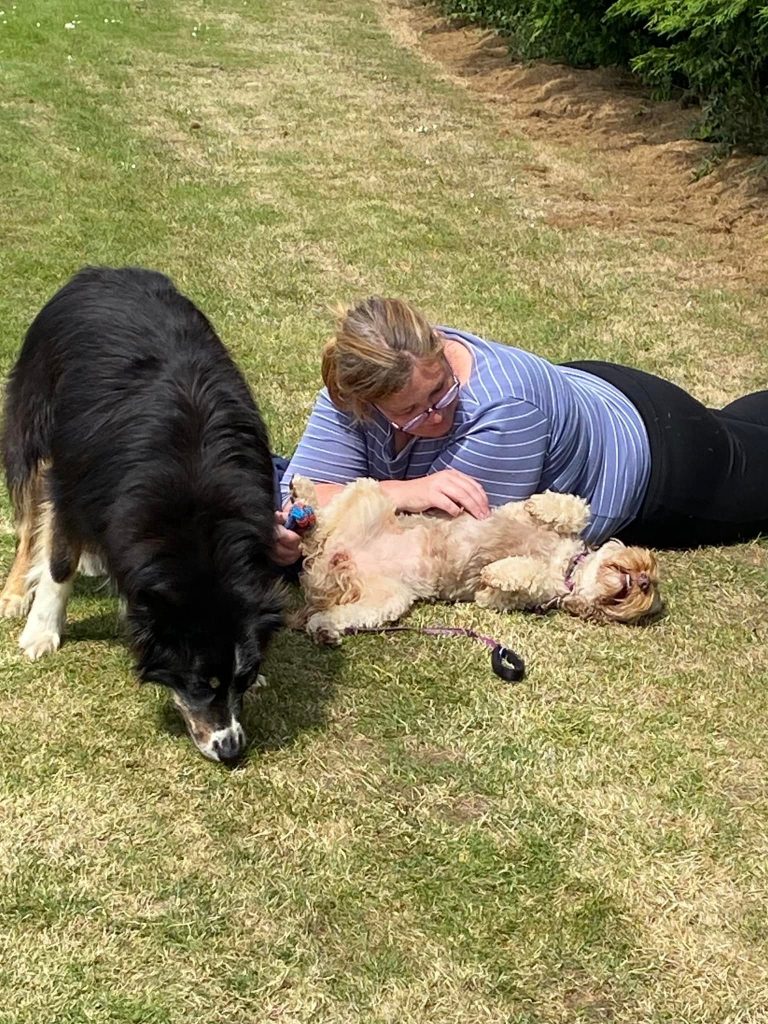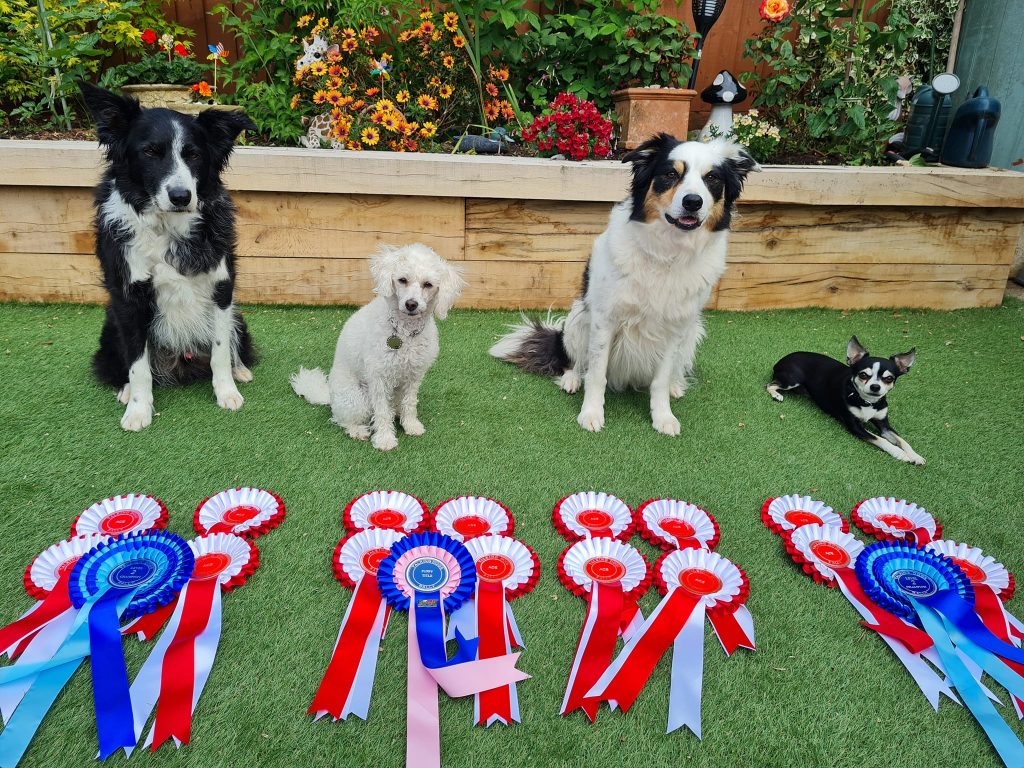 Copt Oak Trial-May 2022 Blog by Jacky Ruddock
Sue,Jayne and I were happy to be invited to judge a 2 day trial in the village of Copt Oak in Leicestershire last weekend. This is a new venue and is absolutely ideal having lots of space and a quaint little village hall. As entries were manageable, the judges, along with Judge Amie who joined us, had the opportunity to work their own dogs. A few of our members also competed in the Allbredience competition which ran alongside TDR on Sunday. It was great to see some of our long-standing members including Heather who achieved han impressive 210 score in VL1 with the beautiful Caley.
It is always a joy to connect with the newbies at their first live trial. The 3 Cavaliers Josie, Violet and Rufus all pulled off impressive first time rounds. Lyra, a Newfoundland Cross demonstrated that even very large breeds can successfully negotiate a TDR course! Richard and Meg worked at a consistently Ace standard over the 2 days and impressively achieved their Level 1 Title; well done team! Age is no barrier to enjoying TDR. My heart was stolen by the gorgeous 12 year old Labrador Cross, Coco worked by Annie. This was Coco's first trial and boy did she enjoy herself flirting outrageously with the Sheltie boys and prancing around the ring like a young thing! Annie walked away with her VL1 Title after working 3 lovely rounds. I think this team has caught the TDR bug!
I must mention a few teams- Sara and DJ- what a harmonious team you are; well done on your perfect L2 round. Ann and Dexter- congratulations on achieving your L3 Championship. This is no mean feat as you have to achieve a total of 18 qualifying scores! Thank you Ann for all your help and support you offer at every trial you attend, it really is appreciated. Wendy and the boys- I can really see the development of your teams and the growing bonds between you. Your hard work is paying off; keep it up!
I know how much work goes on behind the scenes of a trial and must offer a heartfelt thanks to Sabine and her husband who hosted us for the weekend.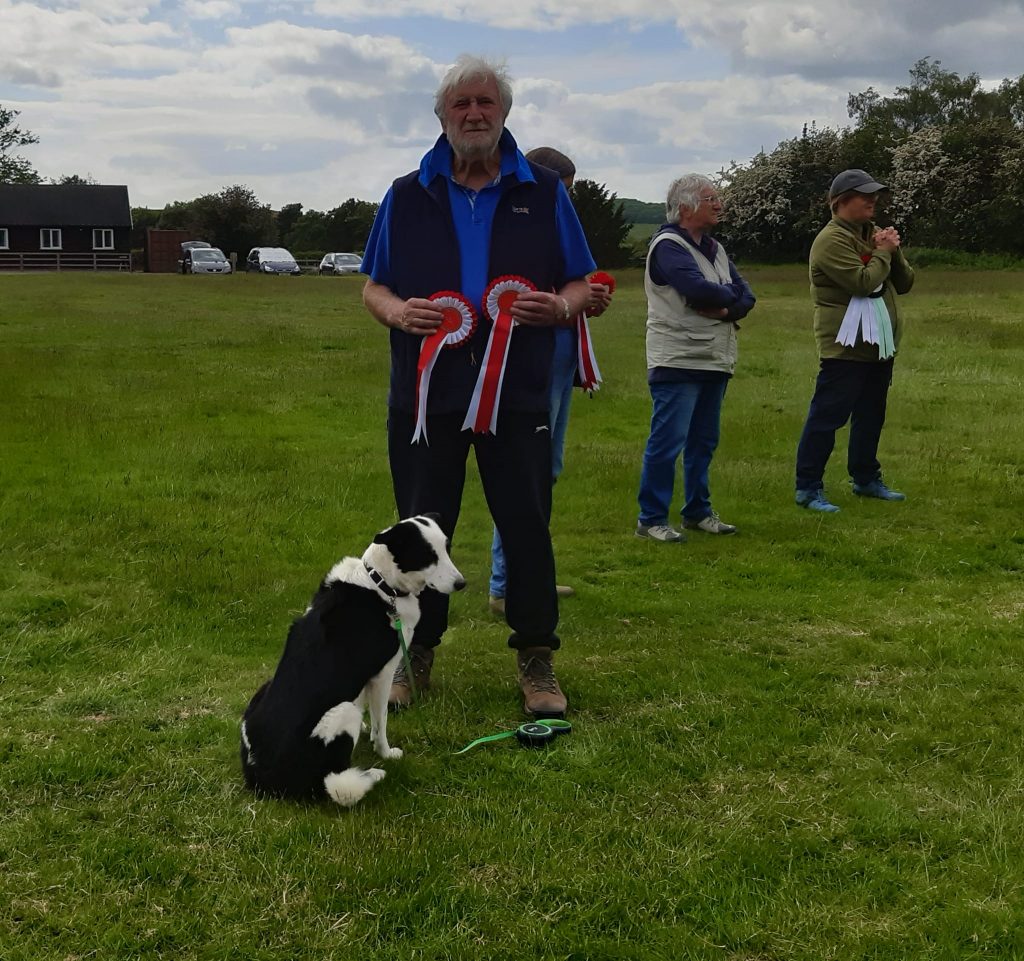 Thirsk Trial April 2022- by new judge Jayne Crowther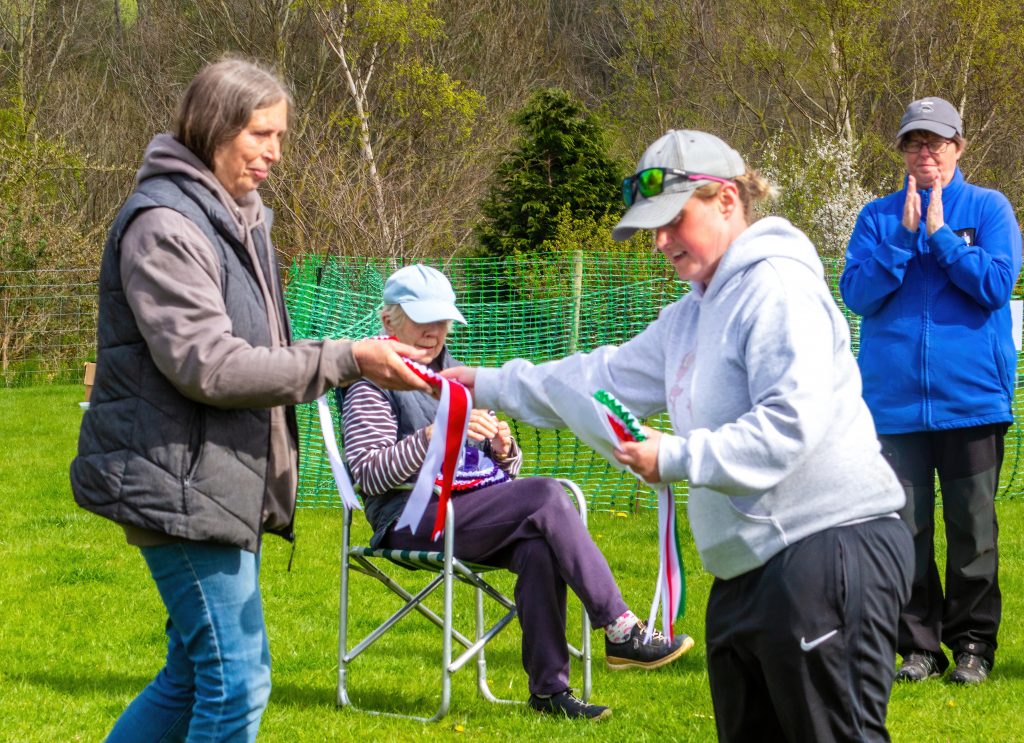 Well, I'm not quite sure what I was thinking of when I decided to organise a trial where I would also be competing with my own dog, and undertaking my first Judging appointment……. on the first morning I began to worry that I had perhaps bitten off a little more than I could chew, and if I had not had the most fantastic support team alongside me then this may have been true!
This truly was a collaborative trial for the Positively Canine and Ruff Diamond Dog folks, where everyone pulled together to ensure the weekend was enjoyable. Special thanks to Sian, Debs, Ann, Jo, Emma, Cris, Gemma and Hazel, for helping set up/change courses, take down rings, meet/greet and sign post folks to the right ring at the right time, provide timely and much needed refreshments to the Judges, and for keeping everything light hearted and fun, we did have quite a few giggles!
We were very grateful to Jo for allowing us exclusive use of the Positively Canine training venue, this enabled all of the teams to succeed in their first live trial. The on-site distractions of the sheep; Lily, Alan and wee lamb Jeffery plus Winnie the horse, did not prove too challenging for most teams. I am a fan of enabling my own dog to see distractions as a training opportunity and it was good to see many of you adopt a similar approach.
I thoroughly enjoyed meeting everyone and judging the Puppy, Level 1 and Veteran Level 1 rounds where I saw handlers enabling their dogs to enjoy their first ever trial experience with high value and timely rewards alongside great communication. In the lower levels it is hugely important to build confidence through sharing a good experience and I was pleased to see many of you aiming for this rather than the colour of the rosette.
There were many special moments throughout the weekend;
Gemma worked Cris's Border Terrier Rab in Veteran Level 1 and achieved ACE Scores, an AOE and their VL1 Title. Considering that Gemma walks on crutches; it was truly inspirational watching this team work their rounds.
It was so lovely to see Rae and Morse back in the rally ring, and achieving ACE Scores in Level 1.
In the Puppy Level, Emma with Joey and Jo with Gilbert, demonstrated the groundwork skills that will see these teams have consistent success as they work through the TDR levels, and they both earned their Puppy Titles at this trial.
Special mention goes to Diana Hillsdon, who has three rescue dogs; Charlie, Ivy and Tim. They are three very different dogs, and Diana navigated them through a total of 12 rounds over the weekend, resulting in Level 1 Titles for all of them, and an Award of Excellence for Charlie.
This was a truly fabulous trial, and I look forward to hosting more trials at this venue in the future.
Elham Trial 16 April 2022 by new judge Jacky Burden!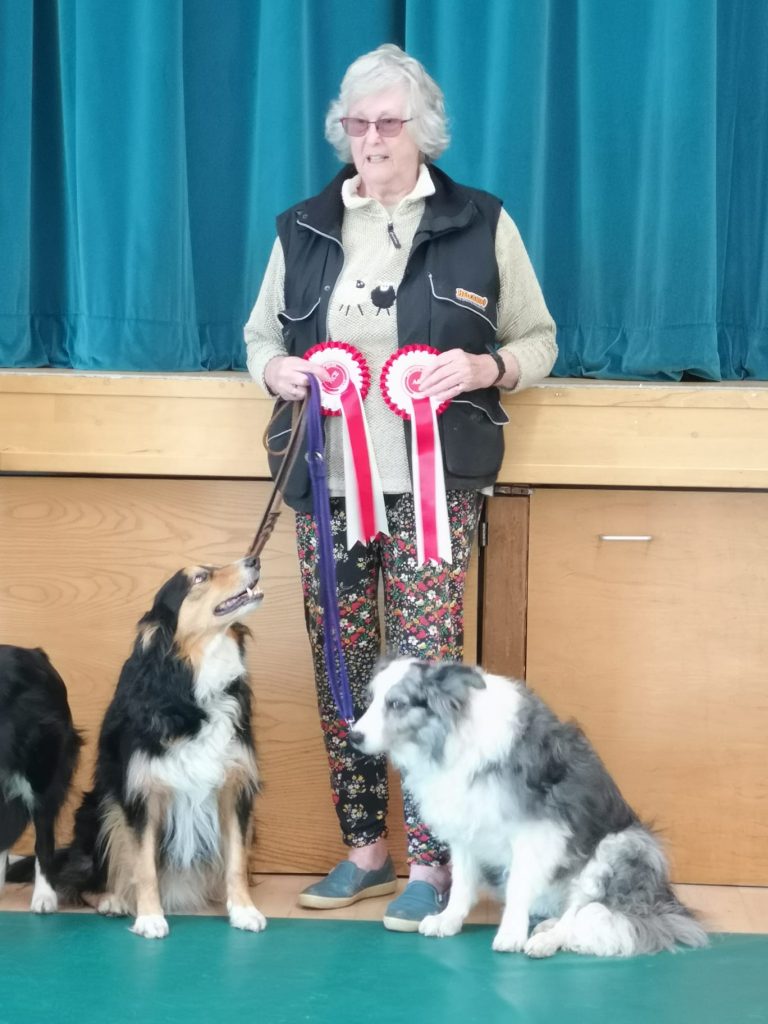 Elham was my first live trial as a judge. I ensured I had the course ready well beforehand, with numbers, sign holders, etc. only to find on arrival that I had forgotten the cones for the slalom. Luckily the host club was able to lend me 4 so there was no need to reverse slalom round mugs from the camper!
Elham is a wonderful venue, nestling in the beautiful Kent countryside …. and what a great day we had in the sunshine (& that edgy wind!) It was lovely to see some of our Kennel Club Rally friends trying the course, with hastily gained TDR knowledge & to see some longer term TD Ralliers back enjoying our sport.
I loved the sense of humour shown by so many participants & the kindness with which dogs were treated. The teamwork was great & most teams were able to obtain qualifying scores in the classes I judged. The exercises most commonly penalised were the circle & 270 turn – both the handler & the dog need to walk the shape shown on the sign.
My favourite rounds were probably Adrian working his dog in the Veteran class & Jo Jo with little Mya … both made errors but showed their dogs encouragement & support to keep them happy, positive & rewarded.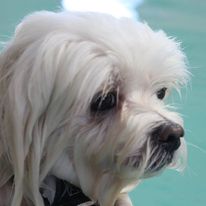 Brenzett Trial-October 2021
Wow what a fabulous day! Beautiful homemade cakes, lovely warm tea and even the weather stayed dry! A great 'family' atmosphere with friends old and new. My Level 1 and Vet. Level 1 teams made me so happy; so many lovely handlers who clearly love working with their dogs, a fact reflected in the results. I feel the need to mention Amber, such a lovely dog who worked well and did me proud in the fun team event. Thanks also to Steve and Lindsay for being fabulous team mates! Can't wait until the next one; thanks Steve, Rhia and Co. for a great day out. Sue Coulstock
The Marsh weather was kind to us on Sunday- a mild,dry day with not too much wind! A huge thank you to Steve for taking on the lion's share (99.9%) of the organisation of the trial and to Rhia for manning the desk and planning the Team Rally to end the day with lots of laughs, (mostly at me trying to work a very reluctant Eevee)! I had the pleasure of judging some cracking rounds- special mention to Dawn and Sherlock for a brilliant 209. Also to Gary and Wilson for a super 210. Alison and Ida pulled out two cracking rounds, 210 in both! Lindsay had been threatening to retire Bonnie but she bounced round the ring and looked like she was having a great time! If I haven't given you a special mention it's no reflection on your rounds- you were all great.
Just one thing springs to mind from a training point of view when I think of the few trials we've had since returning to 'live' trials. More thought needs to be given to your positioning when working your dog on the right. Many of you do not deviate from the 'line' you adopt when working your dog on the left- so that when the dog is on the right they have very little space and are sometimes almost having to jump over the signs. It's difficult to describe what I see when judging but I hope you understand what I'm trying, (not very eloquently), to say! Tanya Butler
I must send a massive well done to Frances and Keena who achieved their Level 3 Championship at Brenzett. This is no mean achievement for anyone as it requires a total of 18 qualifying scores. This beautiful little lurcher always gives her best in the ring and is a sheer delight to watch. Great work team!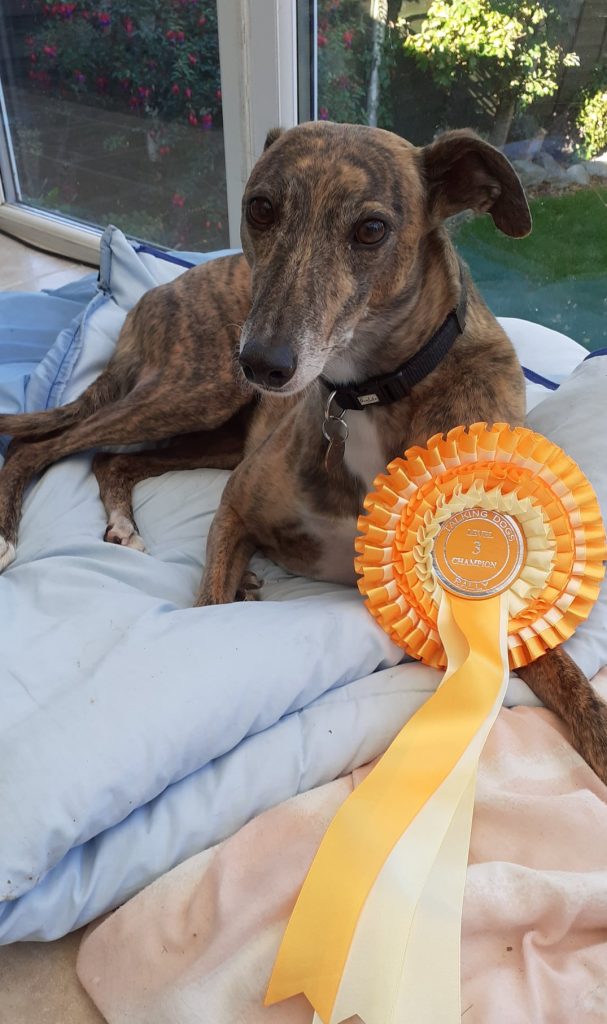 CALM Trial on the IOW- 25 September 2021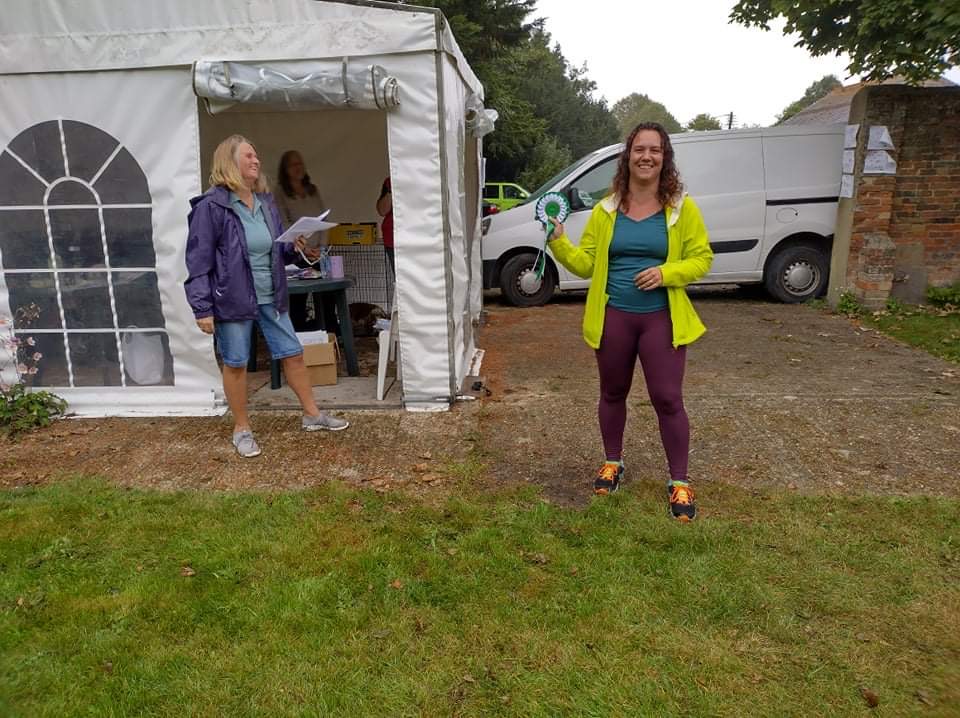 What a great time we all had rallying on the IOW in this picturesque little venue on the green next to the church. The weather was mixed but the dogs worked in a happy relaxed manner. Handlers were not all quite as relaxed, mainly due to the fact that it has been 2 years since most attended a live trial!
Special mentions to- Chrismari Ramsay with Victor who bounced around the ring to score 2 Aces at L1.
Laurie Rushton with her adorable Wire Haired Dacsky, Gertie who performed beautifully and dropped only 7 points in her L1 round.
A particular mention must go to Sharon Baxandall with Isla and Nikki White with Chili. Both of these teams had a difficult morning yet managed to pull off beautiful rounds in the afternoon. Well done!
Thank you Helen and your helpers particularly Tracy for providing a beautiful wiggly puppy to drool over! Jacky
Risby Trial-18/19 September 2021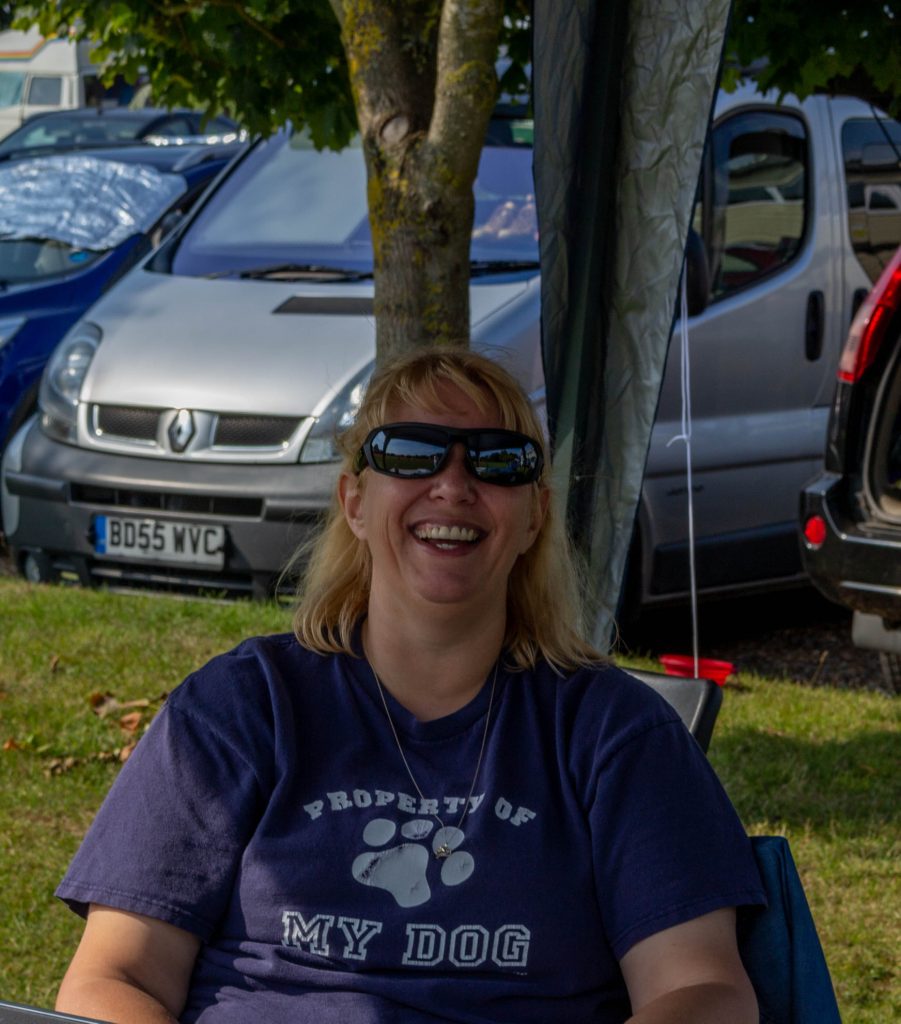 As always all of us attending had a wonderful weekend away at the Risby Trial. The weather was kind until Sunday afternoon when the heavens opened and we were forced to retreat indoors to complete the L2 rounds.
Far too many brilliant and enjoyable rounds to mention but here's a few notable ones-
Judy Richardson with her adorable 7 month old Black Lab puppy, Rose achieved 4 Aces across the weekend earning her a Puppy Title and an AOE. Heather Preston and Caley looked smooth and flowed around the courses to achieve 3 Aces at Vet.Level 1 Alison Ruyter and her blonde bombshell Ida earned their L1 Championship in style by achieving a Perfect 210. Jane Hughes and fluffy Troy performed beautifully in L2 and scored a perfect 210 under Jacky.
As we all know TDR® is not just about scores, the friendship and supportive atmosphere in the sport remains of prime importance. We all welcomed the newbies on board at the weekend and were particularly struck by Nicki Layzell and her two dogs Treacle and Radish. Nicki smiled, chatted to her dogs and bounced joyfully around the rings; her teams have a bright future in TDR®.
Thanks as always to Lucy Dawson who always puts in so much work to ensure the smooth running of the weekend trials. Thanks also to all those who helped set up and clear away. Looking forward to next time. Jacky
Our first trial in Chiddingfold was a huge success and we are very grateful to Dorothea and her team of helpers for the such a well-organised event.
Initially the outlook did not look promising as we set up courses in the pouring rain but the weather soon changed in our favour. Tanya and I judged nearly 60 rounds catching-up with some of our regulars and meeting newbies in the flesh, who we had seen in the online trial.
The standard of work was generally high with many Aces being gained. A particular well done to Bill and Mitzi who gained their Puppy Title and AOE. Also Jill with Molly and Deidre with Sweep who gained their L1 Titles along with AOEs. For those of you new to the sport an AOE (Award of Excellence) is gained for achieving Ace scores in the first 3 rounds you complete in any level.
Particular mention must go to Samantha Hatcher and her range of Belgian Shepherd Dogs. All of her dogs performed brilliantly and bounced around the ring with great enthusiasm and obvious joy. Samantha's handling was indeed a joy to judge.
You just can't beat the camaraderie that we see in live trials as competitors support and encourage each other before, during and after rounds. This is particularly noticeable in TDR which will always remain non-competitive.
Looking forward to seeing some of you at Risby in September. Jacky
Our first post-Covid live trial! Elham 18 July 2021
Thank you to everyone who came to our trial at Elham in Kent. It was a truly beautiful day; the sun shone as we lounged on the grass in the shade and caught-up with friends from around the country. Teams worked well despite the heat and some challenging courses. A special mention to two new competitors, Bill with Mitzi and Sue with Luke. These pups have a bright TD future ahead of them. Kay and Kiri executed a truly flowing Veteran Level 2 round losing only 1 point. Well done everyone, it really was a joyful day.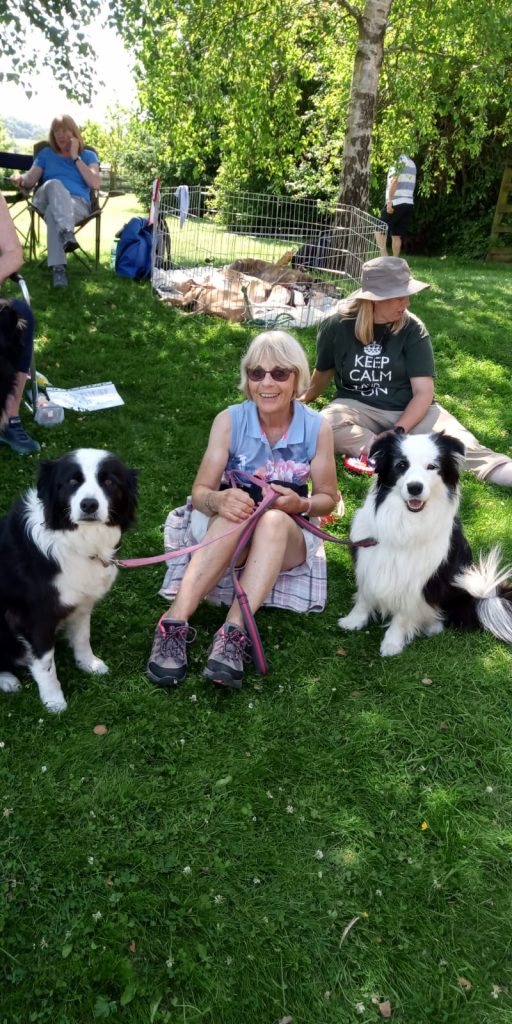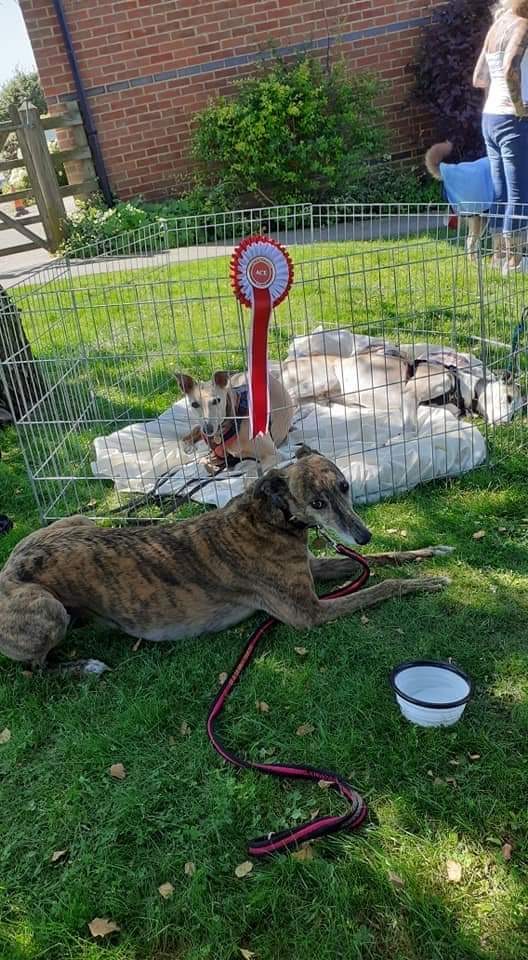 Talking Dogs Rally® during Covid!
Talking Dogs Rally® Online Trials
Our first official trial- courses published and entries open-8-22 January 2021. Judging 23/24 January!
So following the success of our online trial and the ongoing uncertainty of Covid-19 we have made the decision that we will hold online trials 3-4 times per year. We will ensure that these do not overlap with Online KC Rally as we recognise that many of our members enjoy competing in both. The following conditions will apply-
Entrants must be registered with Talking Dogs Rally®
Online TDR® Trials will have their own progression/awards system separate from live trials (as KC Rally does). This is to recognise the big differences in both.
Each online trial will initially have 1 course at each level- Puppy, Level 1, Pre-Level 2, Level 2 and Level 3. There will also be Veteran Levels 1,2 and 3 for dogs of 7 years and over.
Courses will be set and judged by TDR® judges who currently judge live trials.
Each team, consisting of 1 dog and handler, may enter a maximum of 2 classes per trial PLUS 1 Veteran Class if eligible.
Handlers currently working live TDR® Trials may choose to enter the level below that in which they currently compete or begin at L1 or Puppy/Vet L1 if eligible. For example, a team currently competing at L2 may chose to begin at L1 or Pre-Level 2.
Handlers new to TDR® MUST begin at Puppy/L1.
Teams may also enter the class above the lowest class they are entered for. For example, if entered at L2 a team can also enter L3.
There will be a separate awards system for Online Rally which differs from live trials. Teams will be awarded Good (170-179) Outstanding (180-189) or Ace (190-210). Certificates and score sheets will be e-mailed to competitors who will then also have the option of purchasing rosettes to celebrate their achievements.
Teams will be awarded a TITLE rosette for 3 x Good/Outstanding awards at each level OR a CHAMPIONSHIP rosette for 3 x Ace awards at each level. When the team has achieved a TITLE or CHAMPIONSHIP at each level they can opt to move up to the next level or continue to compete at this level. These awards will be financed by TDR®.
Courses will be published approx. 2 weeks before judging. There will be no minimum dimensions for each course but it should always be remembered that flow is vital to this sport.
All courses to be submitted via YouTube. Videos must include sound and be of good viewable quality. They will be verified before judging.
£3 per entry
Details of Online Trials will be published on the Website- www.talkingdogsrally.co.uk and on our main FB Page. An individual FB page will be created for each event to enable questions, walkthroughs and discussion.
Talking Dogs Rally® prides itself in being entirely non-competitive and there will be no placings.
Please feel free to ask any questions. Further details to follow.
Risby Weekend- 14/15th January
Rhia Butler Judges Report Risby 12/01/2020
Thank you to everyone who came out to the weekend trial hosted by Lucy Dawson. Although it was freezing in the hall, as unfortunately the heating had been vandalised a few days before, all of the dogs and handlers worked incredibly well.
I have a few special mentions to give out; Lindsay and Reef, VL2 – Lindsay all of your hard work paid off and I was so pleased to be able to award Reef the perfect score. Jacky and Amber, L3 – another perfect round and Jacky you deserved it 100%, Amber did so well. Everyone who completed my L3 course. I think all of you should be proud of how your dogs worked. It had been a long day and the dogs still came out with wagging tails. The jump was a little too exciting for some of the dogs and waiting wasn't an option.
This was the first trial of the year and I can't wait to see you all at the next one.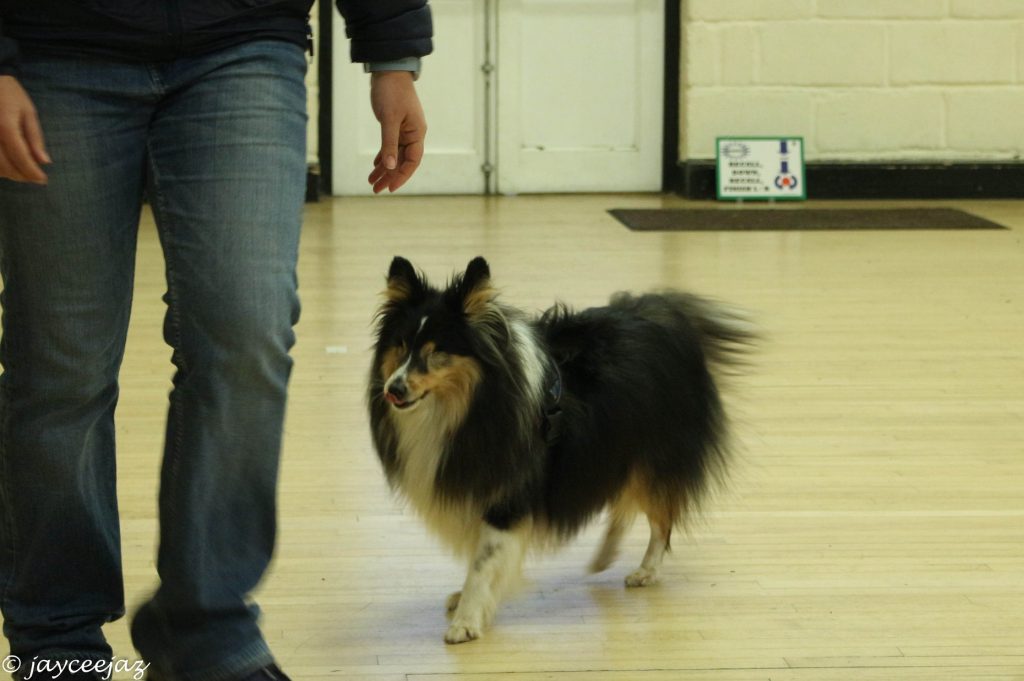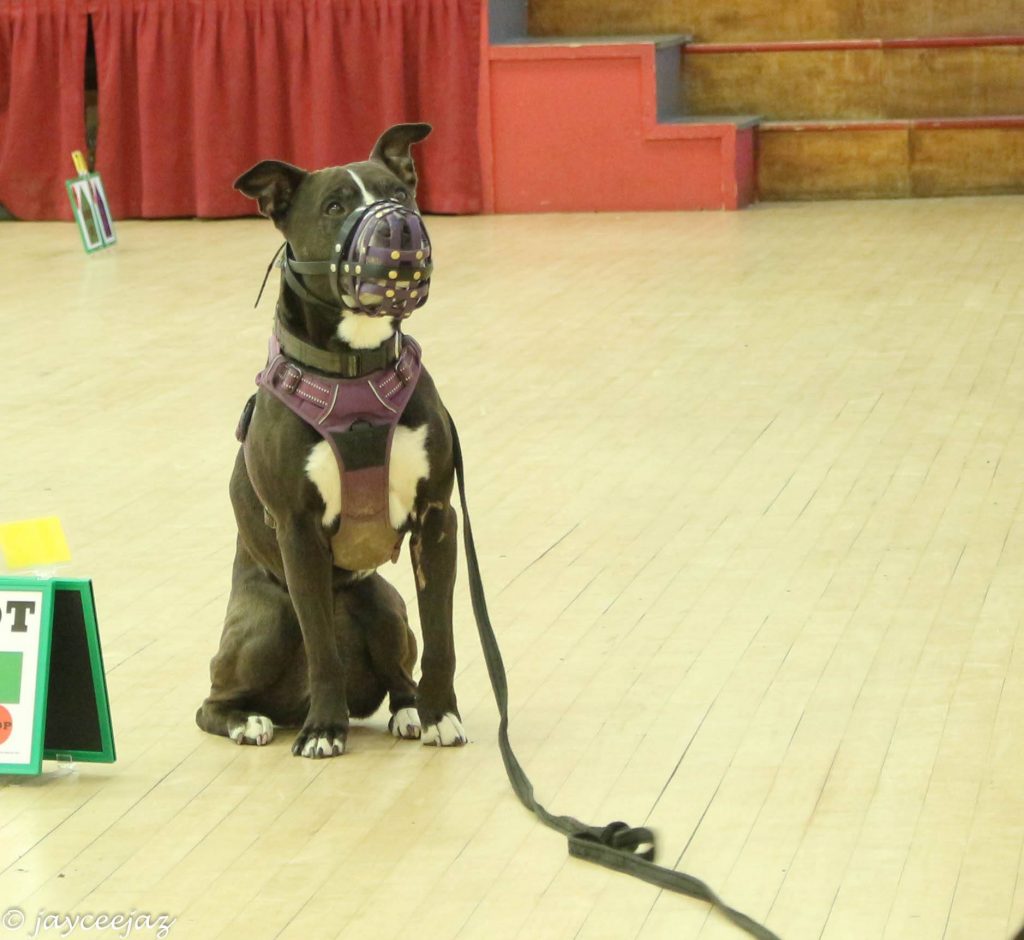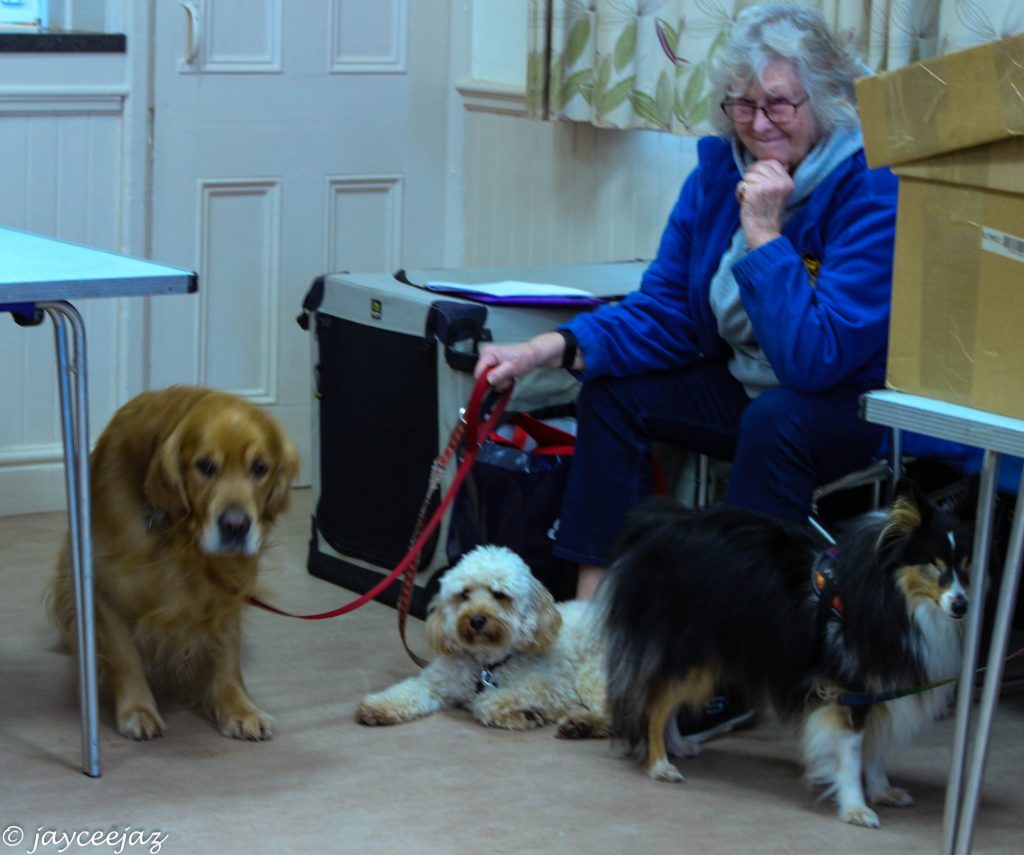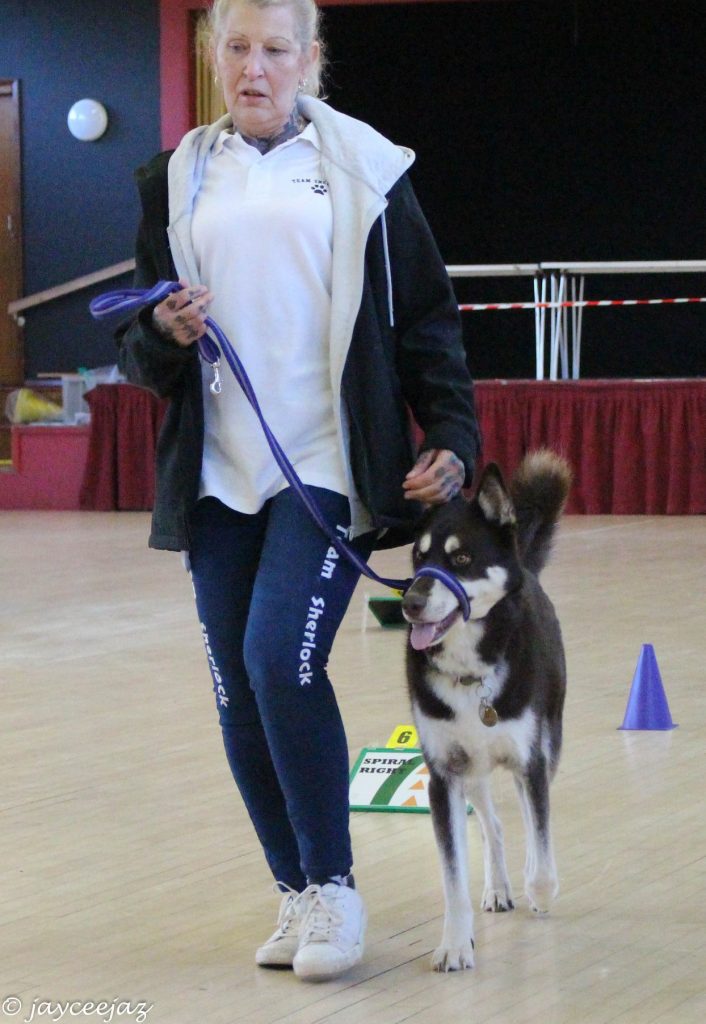 Judge's Report- CALM Isle of Wight, 8th December 2019
Alfie and Rufus exhausted after their busy day!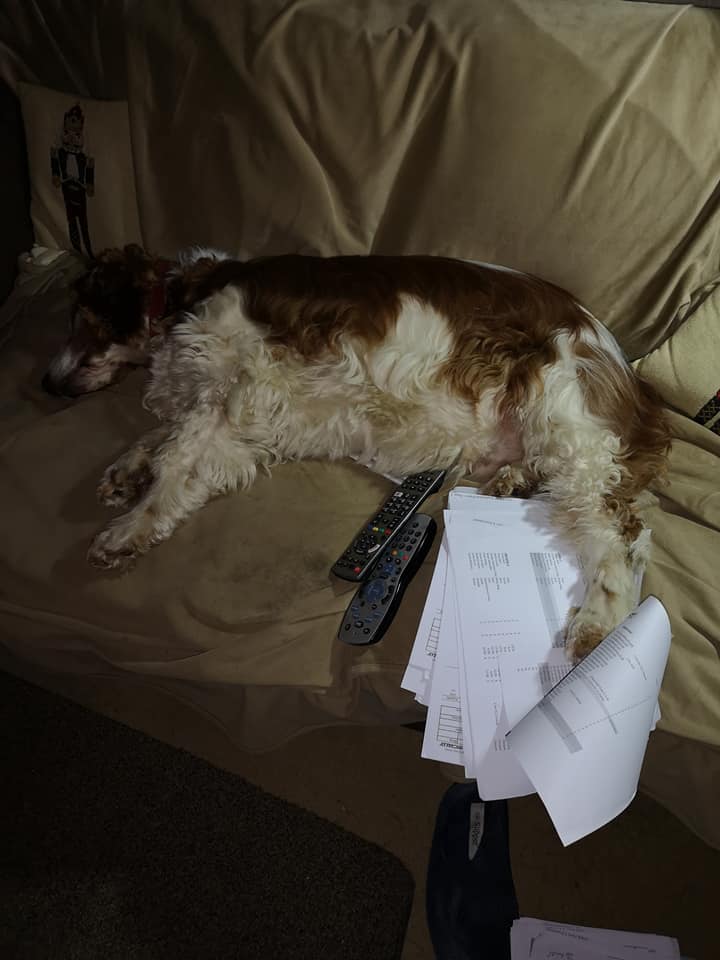 This was my first time judging for Helen and it was good to be able to put faces to familiar names. The standard was generally high with many great rounds and a few which gave us a bit of a giggle!
Special mentions go to the following teams:-
Laurie Rushton and Gertie Gertie the Wire Haired Dachsund bounced around the ring and pulled off two cracking rounds earning the team their Puppy Championship.
Bonny Busby and Ted This was the team's first trial but you wouldn't have known it as Bonny and Ted achieved a creditable 195 and an amazing 210-Perfect! Look out for this team in the future.
Audrey Powell and Chelsea This was this team's first trial and they managed to achieve a Good score. Audrey really did show us that TD Rally is a sport accessible for all handlers and dogs.
Tracy Bull and Alfie Anita Norris and Snookie Both of these teams earned their PL2 Championships.
Carole Thornton-Todd with Molly Molly was really able to focus indoors and showed me how well she can work as she flowed around the courses.
Chris Thompson and Splodge This team performed the most beautifully spirals I've ever seen!
Rocco, Finlay and Barney- you were the comedians of the trial and brightened our day with your antics! These dogs reminded us all that, although it's great to win awards, TD Rally really is all about having fun with your human.
Rhia Butler
Judge's Report – Ditton Mini Trial
25.11.2019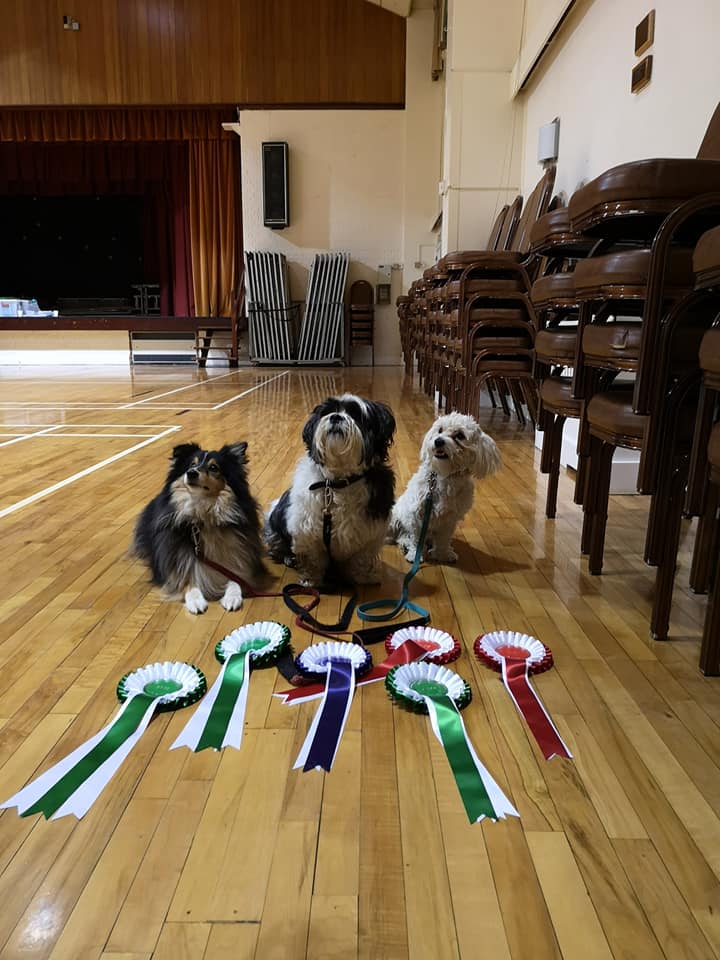 Wow! What a night.
Thank you to Steve for asking me to judge, and to all of you that came to compete. Also a special thank you to the Ditton DTC committee for supporting TD Rally®.
Welcome to all of the new faces that came along to their very first competition. You all did so well.
I have the absolute pleasure to train most of you and all I can say is that I am so impressed with each and everyone of you. You blew me away, and the scores show that.
I have a few special mentions;
Janice and Monty, what a team. Janice the bond that you have with Monty is so lovely to see. He worked his socks off and got a well earned Ace rosette. Well done.
Lynne and Poppy, such a super round that left me with nothing to mark. Your round was definitely worth the 210!
Guy and Luca, although NQ'd Guy you carried on and Luca did some lovely work. I'm so glad you kept going.
Now I know that once you get in the ring the training goes out of the window and the nerves take over. Trust me, I know how you all feel. But please don't get disheartened, for many of you this is the best lesson that Tanya and I could have given you, you have done one competition now so the next one won't be as scary. You all have the potential to go on and achieve great results in TD Rally. And if you do feel discouraged, I have my clipboard handy and I will beat it out of you.
I am so proud of you all and I can't wait to see how your TD Rally® journey progresses.
Risby Trial: Saturday Nov 2nd 2019
Judge: Rebekah Watkins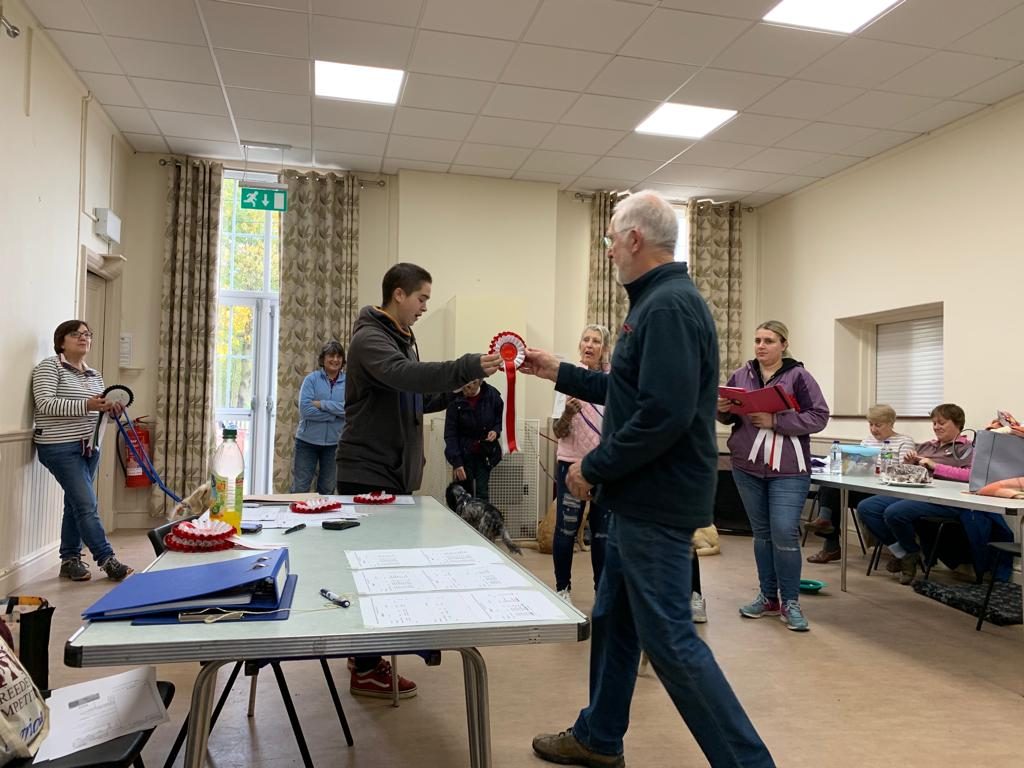 I love seeing the difference in the way dogs work in the hall in the winter. Some love it, others don't! I was so pleased with the calm, confident way that Rachel encouraged Rogue around the tricky course I had designed. It has always been the true strength of our sport: the support and considerations of ensuring positive and enjoyable rounds for a partnership, rather than a total focus on competition outcomes.
Saturday was perhaps one of my most enjoyable judging experiences. Dawn Ager truly impressed me with her pre-level 2 round. The confidence with which she works her dog and a course is unrecognisable from the first time I judged the team. The relationship she has with her dog is so close and trusting. Steve Carpenter's gorgeously handsome Harry, has always been a challenge to work in the Rally ring, yet Steve has never given up and produced a super round in the very challenging pre-level 2 course. It was the best I have ever seen Harry perform and he pranced round the course with joy! It was a huge privilege and pleasure to award this team their level 1 Championship following judging their final qualifying level 1 round. Both performances achieved an Ace.
With the PL2 round, the level 1 signs were where many of the errors occurred. For some it comes down to polishing the basic obedience skills. One of the most common things that lost points were out of position sits. This was as noticeable on the left as the right. Touching of signs and cones occurred far more than usual so I would advise more focus on the handler's positionIng during the walk round. If you are in any doubt about how best to place yourself, ask the judge to demonstrate. It was great to see more confidence with the dog circles. Everyone tried to achieve this sign as part of one smooth movement. This is impressive to watch! Quite a few handlers needed to prepare their dog for the upcoming station. This was mostly in the pre-level 2 course. It's important to remember to tell your dog what to do when the course is demanding. Much as our dog-partners are clever enough to look like they know what the signs are instructing them to do, science tells us that they cannot actually read.
It was lovely to have someone new to me in the ring. Chaz and Dave impressed me hugely with their relationship, enjoyment and skill. Both of Dave's dogs are lovely to watch work. Once those nerves settle, they will thoroughly enjoy working their way through the levels.
It was great to see Hetty back in the ring. She is such a skilled handler and was so good to watch her lovely round. We have some excellent handlers in our sport who are gifted trainers. We should take advantage of watching the different methods used. It is one of the things I enjoy most about being a judge. However, nothing is more lovey to watch than the puppies. The two youngsters in my puppy class clearly had such fun with their wonderful handlers.
Finally, thank you to all of those who attacked my courses on Saturday and allowed me to judge you. It was a pleasure and I hope you all continue to enjoy this sport as much as I enjoy judging you.
Photos from the Bedlington Trial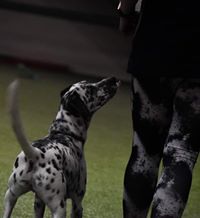 Judge's report- Fishbourne Trial
Whilst setting up on the morning of the trial, we were all concerned that teams would either be wading through a swamp or being blown across the field! As it happened the weather was really kind to us and, apart from the odd gust of wind, the conditions were infact rather pleasant.
Teams generally worked well and many Aces were awarded during the day. A special mention must go to David and Chaz and Alison and Ida who both scored 210 Perfect in their Level 1 rounds. Well done both teams.I particularly enjoyed watching Carole work with little Tanner the Chihuahua who bounced around the ring in harmony with his mum. Zoe also handled her little Yorkie pup Bert really well in my ring and he clearly enjoyed his day.
Several handlers fell into the trap of performing either overly large circles or tight 270's. Take care when performing Level 1 stations, some are getting rather sloppy!
Although some of the dogs were distracted by footballers and random dogs being walked on the field, most managed to work through any interruptions.
A big thankyou to Jacky B, Frances and all at Armchair Pets who made this trial a success. A special thankyou to Bill who fought against the wind to successfully erect the gazebos.
I look forward to showcasing my judge's gift at Lucy's trial in January!
Veteran Level 3
Exciting news for Talking Dogs Rally® competitors!
From January 2020 trial hosts will be able to offer a new class- Veteran Level 3. This class is for dogs 7 years and older on the date of the trial. Teams must have already won a TD Rally® Level 2 Title or Championship or Veteran L2 Title or Championship.
This class will consist of 16-18 stations and will not include those stations already excluded in Veteran L1 and Veteran Level 2 classes. Jumps will also be excluded. Before beginning the class, handlers will be given the option to substitute a sit for the moving down in Level 3, Stations 14 and 15 (right/left turn, 2 steps, moving down).
In line with current Veteran levels, a Vet. L3 Title will be awarded when a team has accumulated 5 x 170+ scores and a Vet. L3 Championship when a further 6 x 180+ scores have been achieved.
Title rosettes have been ordered in readiness!
We have a new judge! Susan Coulstock has qualified to judge at Puppy, Level 1 and Vet. Level 1. Her contact details are now on the info. for Trial Hosts. Bio to follow. Welcome to our judging family Sue.
Judge's Report- Elham Evening Trial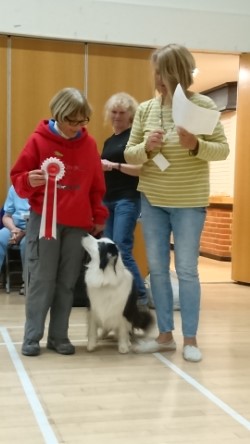 This was our first evening trial, which was rescheduled due to originally being planned for what turned out to be the hottest day of the year! The weather was fine but quite windy which caused the usual problems with falling stations and flapping ring fencing. Rhia kindly stepped in to judge in a second ring so that we could get through the outdoor entries whist we had light.
I was lucky and had a lovely warm hall to judge in!
The standard of work in my ring was generally high. I must say that I can still remember my first trial and how daunting it was to walk in the ring. A special mention must go to our newbies who all left having achieved creditable scores- Claire and Ricky, Diane and Molly and Joy and Jess. Well done all of you!
Kimberley achieved a 210 "Perfect" with Wallace after pulling off a round, which, quote Tanya, 'Blew me away'!
I would like to particularly commend Alison and Ida who demonstrated in my ring what it really means to work as a harmonious flowing team. Team Ida really is a joy to watch!
There were few negatives to pick up on other than the use of tight leads primarily due to nervousness in the ring. Remember to stay calm, use a loose lead and breathe handlers!
Thank you Lyn and Sue for being fantastic welcoming hosts as always, Betty in the kitchen and my fellow judges Tanya and Rhia who work tirelessly for TDR. Thank you also to our stewards Monica, Jacky and Sally who gave up their evening to help us out.
A big CONGRATULATIONS and welcome to Susan Coulstock who has now qualified as a Level 1 judge following completion of her training at yesterday's trial. Keep your eyes open for her bio on the website shortly.
Yesterday's trial reminded me just how friendly and supportive TDR folk are. The non-competitive element of the sport really does mean that handlers genuinely do wish each other success. It was rewarding to watch people who didn't know each other at the start of the evening chatting, sharing stories and cheering when their new friends collected rosettes. Here's to next time!
Photos to follow.
Jacky
Trial Report- Isle of Wight September 2019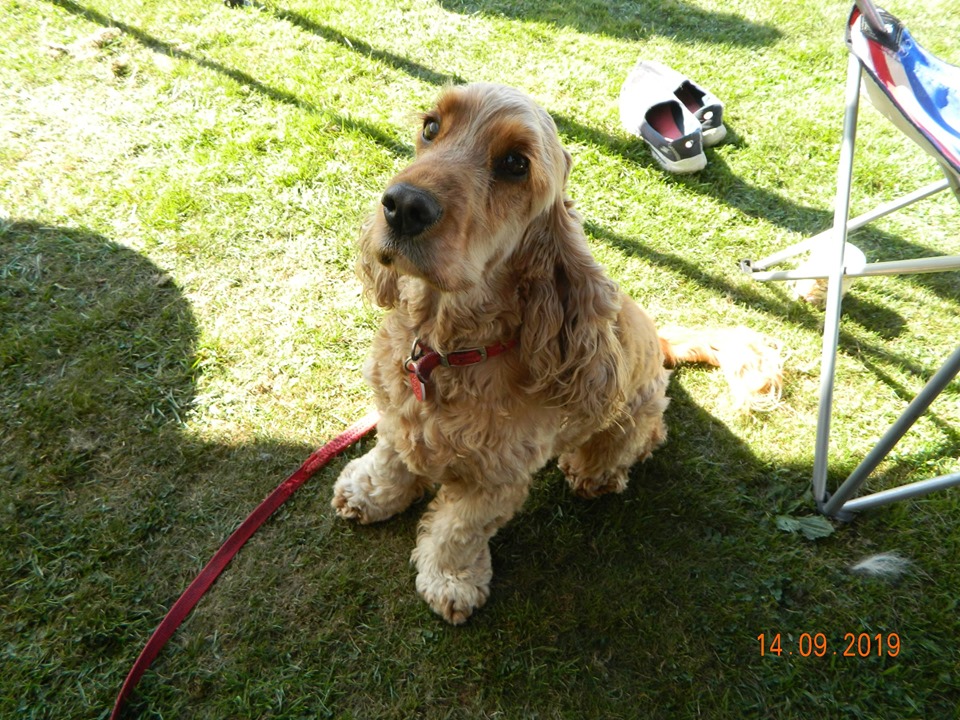 What an incredible weekend of Talking Dogs Rally® we shared on the Isle of Wight last weekend. The sun shone brightly as the three of us judges watched over 200 rounds.
The standard of work was high across all of the levels and we were happy to welcome newbies along with our old favourites. Particular mention must go the Zoe and the adorable little Collie Newt. This team work together beautifully and, I'm sure, are destined to progress through the levels achieving high scores.
My mention for the most improved team must go to Kristy and Quinn the Spanish Water Dog. Kristy has clearly put in many hours of work with her boy and has managed to achieve real focus and enthusiasm. Well-done Team Quinn!
The high standard of work was evidenced in the nine 210,'Perfect' scores achieved across the weekend.
Vet. Level 1- Sonya and Riely Bear
Pre-Level 2- Lisa and Finlay
Lisa and Rocco- TWICE!
Jane and Bella
Heidi and Miro
Level 2- Jenny and Bob
Sian and Orla
Level 3- Gillian and Dottie
Congratulations all of the above.
A special mention to Gillian and Dottie who pulled off a flawless round and made Level 3 look easy! Has anyone else achieved a 210 at Level 3?
Thank you Tessa, Barbara and all islanders who pull together to create a magical weekend; see you in May!
Just a few of the great photos of dogs at Soham (taken by Emma Hindson).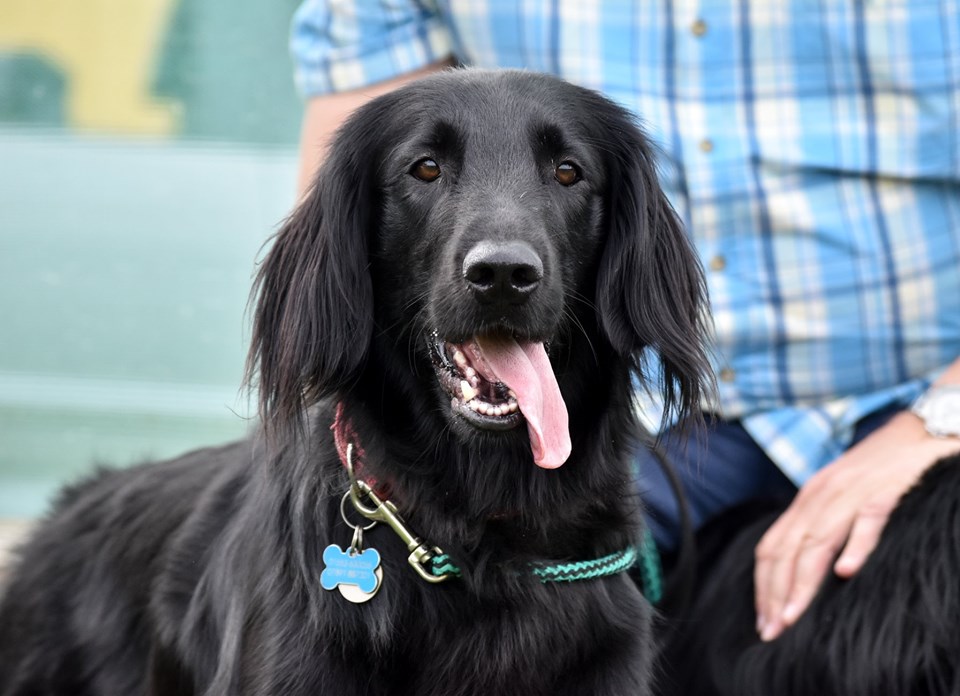 Soham Trial, Sunday 11th August
Judge: Rebekah Watkins
There is no doubt that conditions were a little tricky on Sunday with the significant wind. Lots of dogs were more 'enthusiastic'! Some were spooked and others less than enthusiastic. Of course there were those who simply didn't notice. Despite this, the enjoyment of completing rounds with your dogs was widely evident, with a lot of positive encouragement from handler to dog. I love to see this.
Comments were made in the walk round about various signs that I included, having been points mentioned from the previous trial. I do like to see the outcomes of a bit of training and careful handling and everyone showed care with the call front. I was also pleased to see the quality of the 270 where the shape and flow of the station was achieved with dog and handler at the same time.
This was not so evident in the pivot which was on the right hand side. In fact, a lot of you had trouble with positions on the right-hand side. This was most noticeable in the pivot and especially so in the level 2 side step. Stopping a couple of paces before the sign doesn't allow you enough room to support the movement forward to allow your dog to have the space to get into position. Also doing a shallow side step reduced the possibility for your dog coming to heel in position.
Although there was a lot of luring going on, I was pleased to see that for most this was a deliberate choice to insist the dog completed the task given. You chose to lose a point rather than not complete a station.
Watch out for the level 1 signs. Watching your level 1 circle was very 'interesting'. The shape is a circle, rather than an overly large squashed doughnut. Whilst I am a total fan of doughnuts, they are not the right shape and don't help you achieve a neat movement which flows straight on to the next station.
Overall I was very pleased with the relationships between dog and handler. That was shown best in the cones. Even Jane Hughes sailed through every one as if she was a confident professional. However, Baci completely shamed himself by performing his trade mark roles, right on top of my signs! Troy, on the other hand demonstrated how fabulous he is.
Best rounds of the day came from Rae with Gracie and Judy with May. In fact, the veterans showed their experience, producing quality, careful movements, whilst hobbling; groaning as they sat and moving at their own pace. I just loved watching Wilf staring adoringly up at Emma the whole way round and jumping – literally a couple of times – straight to her every command with such enthusiasm. It is always such a pleasure to watch Emma with Zara as well. Emma is clearly a skilled trainer and handler but she has a beautiful relationship with both of her dogs. I was impressed by Lindsay Evans with her two Collies. Following the unfortunate elimination in the ring in his morning rounds, they both sailed around the course in the afternoon like skilled professionals. Lindsay also achieved her level 2 Championship which was richly deserved.
It is always such a privilege to hand out titles, Championships and AOEs. Jenny achieved a Veteran level 2 Championship with Keira. They have noting left to work for now, having achieved all awards at all levels. A huge congratulations to this team.
My most entertaining round of the day goes to Heather and Caley. The wind, the rattling of canopies and the sound of the llamas proved just too much. Zoomies around the ring were the order of the day and she certainly was enthusiastic doing them. Heather is very used to this from Caley so she achieved a flow mark for waiting it out and then confidently got her back to business. The crowds loved her puppy-like larks. It reminds us of what TDR is all about.
Finchdean Trial Report-Jacky
Tanya's right, it was indeed a hot one! Despite this we both judged some superb rounds, some humorous rounds and some rounds that handlers may wish to forget!
Our newbies did themselves proud. Tanya has already mentioned David and his two talented boys Chaz and J.J. Lynne and Maggie also achieved two Aces, as did Jane and Rosie; I wish that I had performed this well when I was a newbie! The beautiful Goldie, Casper, worked well for Alan who achieved a Good in the morning followed by an Ace in the afternoon. Two people handle puppy Cavapoo Sweep and this was his first time in the ring with his mum. Safe to say that Deirdre was thrilled to score an Outstanding with her boy. Little Wesley bounced around the ring with Sian and scored an incredible 203; this is sure to be a team to watch in the future. The newbie that stole my heart was, without doubt, the handsome Comet who decided that he would interpret the course in his own special way! Keep up the training Holly; he's a cracking boy.
It was a special moment for me to once again judge Gill Woolgar whose previous dog Millie captured all of our hearts and set an extremely high standard in TDR. Gill's new dog, Molly, has come a long way from the nervous girl she was and has blossomed into a confident dog that clearly enjoys working. She scored a 208 and a 209 in her first two Rally rounds; we look forward to her scoring a Perfect 210 very soon. Talking about Perfect 210, well done Barbara and Karrieanne; well deserved!
A big thanks goes to Jacky, Frances, all of the Armchair Pets Team and The George. You really do create a friendly welcoming environment and are wonderful hosts.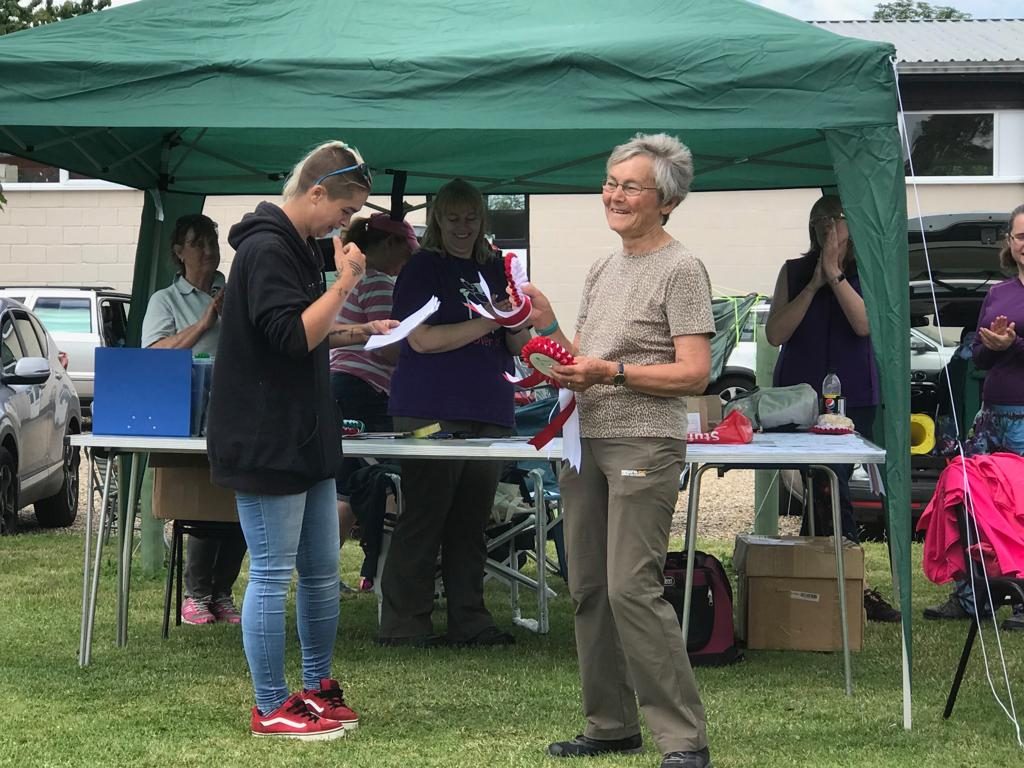 Risby Trial Report-Rebekah Watkins

Level 1
Steve Carpenter has to be noted for the most patience ever displayed. Harry was definitely making Steve work for it! It is highly frustrating watching a stubborn Goldie, who – when he decides to work well – effortlessly and gracefully completes a station with gleeful excitement. Harry aside, there really were some lovely rounds with perhaps more confident handling skills than in some of the Level 2 rounds. It was great to see the development of the partnership between Dawn Ager and Sherlock. Confidence is such an important factor and it really does get communicated to the dog. One aspect that I noted was the call front (in the stand in front of the handler), followed by a finish. There are two aspects to this station. The dog needs to clearly come to front, standing in front of you very briefly (a tiny pause), before moving to left/right finish. It shouldn't leave a judge wondering if the dog actually stood in front of you, rather than arriving around the front area of the handler and straight to the side. Don't forget that – as partners – all aspects of a station are to be done together. This was a common problem on the pivot. However, it was great to see so many of you do the side-step the correct way; the heel work and the relaxed way partners worked together. Although Steve definitely topped the table with the patience factor, patience from handler to dog was very noticeable in this Level. Finally, well done for using treats and praise to motivate your dog.
Puppy
We had some experienced handlers in this little group. I love to see handlers enjoying the puppy round, having fun with their youngster the whole way around. It is a class that we should all watch when we can, to remind us how much fun it should be for a partnership. It was great to see an experienced handler like Heather Preston, working with her lurcher puppy, using the expert handling that she has built working with the lovely Caley. Just to assure you all that Steve really is a good handler, he worked the Cavapoo, Sweep, beautifully around this course and showed off a partnership that benefitted so much from his patient, skilled relationship.
Level 2
Ironically, this seemed to be the group with the least confidence, and yet generally performed well. Even Jane managed to negotiate 'Jane's cones'– as they are now affectionately known – with Troy, which has to be one of the biggest achievements of the day. Unfortunately she wasn't so fortunate with Baci's overall performance as he decided to do some tricks for us, one of which was to lie dead. Although the nerves were on display, I was delighted with the confident and happy manner in which Lindsay Evans and Reef managed their round. Everyone had a good go at one of the least enjoyed station – Level 2 slalom – and most succeeded. A tip for everyone to take from Barabara Taylor: when things are not working, or too many points are being lost, cut those losses and move on but without beating yourself up and letting it impact on the next few stations. It happens to the best handlers. In fact it can be a sign of a great handler, to be tactical about how to managed difficult situations.
Pre-Level 2
This was a really good round to judge. There was a mix of experience in this round with a lot of confident handlers. When questions needed asking – or in Barabara's case informing me how mean I was to include the nasty version of the slalom – they did so with confidence. The judge willingly answers your questions and it is best to ask the judge rather than other handlers, even if they are just as experienced, or more so, than the judge. Barbara Taylor absolutely shone with gorgeous CKCS Jamie. Both were so happy and keen thus giving me an easy round to judge, whilst Jamie showed just how sweet tempered a boy he is as he payed joyful attention to Barbara's effortless handling. There were a lot of lovely skills shown off by the majority of this class. Despite the moans about the slalom – obviously a station that I need to keep in future rounds to allow lots of skill to develop – this was a very well achieved station because the handlers were positive and used praise to great effect. Just watch out for those level 1 stations. These need practising as much as any higher level signs because they are the foundation skills.
Veteran Level 2
This level included some of the most slick and experienced handlers. All of the dogs showed their age in some way: slowness, a little less quick to comply (that stubbornness aspect that comes to us all in our middle to later age!), selective hearing…. What these handlers all had in common was the solid partnership. Judy Richardson knows that a little firmer command is required on occasion but praises quietly and manages her pace to suit May. She is one of the most skilled handlers I know as she helps her dog to achieve by making communication so clear. Jenny Bowden is also a great handler to observe. She is very confident, calm and moves with a sense of pace even if actually going slowly. She also pays great attention to every sign and is very careful in the way that she completes the level 1 stations so that she earns the core points. One of our more noticeable handlers (praises Labrador Gracie extremely enthusiastically, especially with the dog circles) Rae Watkins, gave us a very fluid round with plenty to celebrate. What all of these handlers had in common was careful focus on the movements needed for each aspect of a station and this was particularly shown with the pivot where all handlers and dogs moved together. Sometimes the 'oldies' and their partners are great teachers to the rest of us.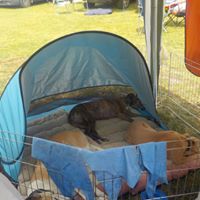 Judges' Reports – Tanya & Rhia Butler
What a busy couple of months it's been on the TD calendar – and we wouldn't want it any other way!! Three Trials in June saw us yo-yo-ing up and down the A3 and A11 and we loved every second of it.
Risby 22/23rd June
Once again, we were delighted to be invited to judge by Lucy Dawson at Risby Village Hall. Sadly, work commitments dictated that we were unable to join the pre-Trial dinner on Friday evening, but early Saturday morning roads were kind to us, and we arrived in good time to set up. It was lovely to see such happy dogs and their handlers, and the standard of work was great. The 'most improved' award must go to Sherlock and Dawn – we know first hand how hard Dawn has worked with Sherlock and the results are there for all to see. It's wonderful to see them now regularly picking up red rosettes – the future is definitely looking rosy for this team! The weather was hot (maybe not quite as hot as last year, but certainly not far off!) and the dogs coped admirably. Special mention should also go to Bacci, who certainly did not like the heat, but still came out to keep his human Jane happy!
Tanya & Rhia

Paws in the Paddock, IOW 29th June
Thank you to Helen Bull and Tracy Bull for inviting us to judge on our favourite Island yet again. A last minute venue change is the last thing a host wishes to deal with and yet, despite booking a venue over a year prior to the Trial, this is what poor Helen and her team were faced with, through no fault of their own. Fortunately, the event was moved to Rookley Cricket Ground, which certainly did not detract from its success in any way – the beautiful, green, well-manicured grass of the cricket field posed no problems for the dogs or their handlers…… and the weather was glorious…… well, glorious in that 'blooming hell, its hotter than hot thing in the oven' sort of way!! From Tanya, a special thank you to those wonderful people who helped out by scribing – Sian, Sonia, Jenny M and Rhia, who stepped in to help out when I couldn't move my arm, thank you so much.
Despite the heat, there were some cracking rounds and the standard was exceptional. Particularly standing out for me were Laura and her beautiful Khan and Beau who struggled through the heat and still came out to play – well done boys!
Tanya & Rhia

Finchdean 13th July
Back down the A3 again to the wonderful Finchdean venue – a pub, happy days. Thank you to Jacky Burden and her team for inviting me to judge (Rhia letting me fly solo for this one to have a well-deserved day off!). Once again it was hot, hot, HOT, but for the most part, the dogs and handlers coped well. Fortunes were mixed and it was very clear that there was a smelly ring and a not-so-smelly ring, fortunately I drew the latter. Poor Harry travelled all the way from Kent with his devoted human Steve, but Harry did succumb to the heat and really did not want to play today – now, I know Harry very well and he certainly was not his best today, but I think he just likes to keep Steve in his place and remind him who is really in charge sometimes….. good work, Harry!
It was lovely to see some new faces too, and they came out with some cracking rounds. David and his beautiful boys, JJ and Chaz, were very impressive and definitely teams to watch in the future, but the stand-out for me was the evident delight shown by both dogs, but Chaz in particular. His tail did not stop wagging and he watched David with absolute devotion and even when Dad got it wrong and got flustered, a quick 'good boy' immediately had the tail wagging and the smile back on Chaz's face – absolutely priceless and so lovely to see.
A particular mention to the wonderful Karrieanne, who came over from IOW with her mum Barbara…… now I have been judging this team for many years now but this time they pulled it out of the bag in a spectacular way, but despite many times of knocking on the door they haven't quite made it to the 210 (I've lost count of the 209's I've awarded them). It gave me immense pleasure to award a perfect 210 to Barbara and Karrieanne on Saturday after a truly beautiful round which truly demonstrated the ethos of rally – a team of one handler and their dog, flowing around a course in perfect harmony.
Tanya Butler

We would like to thank each and every one of you for your continued support for TD Rally and our Trial Hosts – without you, our weekends would not be anywhere near such great fun!

Tanya & Rhia

😊😊😊😊😊
Talking Dogs Rally®
Amendments to The Official Talking Dogs Rally® Manual 4thEdition
Rules and Regulations by Pam Mackinnon
Amendments by Jacky Ruddock
Page 10- Finding your level
There is no longer Level 1A and 1B. This is replaced with Level 1 which is for all dogs 1 year and older on the date of the trial.
Veteran levels are for dogs 7 years and over on the date of the trial.
Veteran Pre-Level 2 and Veteran Level 2- is for handlers who have already won a TD Rally® Level 1 Title or Championship.
It is not compulsory to have entered Veteran Level 1.
Page 11- Learning TD Rally
We no longer have a Twitter page.
Page 19
The 10-minute maximum round time has been removed. There is no longer a maximum time but a judge may ask a team to leave the ring if this is felt to be in the best interest of the dog.
Page 23/4- Feedback
Permitted rewards
Judges like to see dogs working happily and being rewarded for their efforts. Rewards are encouraged at all levels of work.
Puppy Level-physical (touch, stroke), toys and food are allowed at any time during the round without penalty.
All other levels– Over half of the stations excluding bonuses have a stationary element. Food and toy rewards are allowed without penalty after any stationary elementof a station. (If there is more than one stationary element in a station, rewards may be given after each element). Food and toy rewards on the move will be marked as extra rewards.
Physical praise-(touch or stroke) is permitted at any time during the round.
Verbal praiseis encouraged throughout the round.
Rounds should flow and handlers should be aware when rewarding their dogs that points may be lost for significant interruption of flow.
Page 35-Course Design
Jump heights– In the case of a tiny dog the judge may lower the jump height for safety reasons.
Trial Entries
I recently requested opinions about the suggestion of increasing the amount of classes that a team can enter in one day from 2 to 3. I am grateful to all who took the time to reply of which there were over 150 of you!
These were just some of the reasons given to support the suggestion:
The opportunity to enter more classes would encourage people to travel further to enter trials, particularly those handlers with just 1 dog.
Hosts would be able to fill spaces in classes.
Some competitors and dogs are willing and able to work more than 2 classes per day.
Handlers are able to judge their individual dog's capabilities.
These were some of the reasons given against the suggestion:
Even though they may have the physical capability to, some dogs are not mentally and emotionally able to work more than 2 classes per day.
We hope that handlers can judge what their dogs are able and happy to do but there are times when handlers are eager to work but their dogs are not happy to. Handlers sometimes become stressed rushing from class to class and dogs are not allowed enough rest and down time.
Some trials fill up very quickly. Spaces may be quickly filled by fewer people, particularly those with multiple dogs.
Conclusion
There were significantly more respondents who did not support an increase in classes.
After discussion with judges and careful consideration of the points raised, I have decided that it is in the best interest of all if we limit the amount of entries per team to 2 per day. This is in the true spirit of TD Rally® which puts the wellbeing of the dog at the heart of every decision.
The Way Forward
Several people made some really useful suggestions that hosts may wish to consider and TD will support.
Introduction of a 'Have-a-Go' Ring if space permits. This would enable all to train/reward/practice in a relaxed manner. Perhaps hosts could have a bucket and handlers pay £1 for a turn.
Introduction of fun classes such as Rally Relay, Team Rally etc. Remember when we did this at the Spring Fling? Hosts can be imaginative! Please discuss ideas with TD Office for approval.
Fun classes could be entered on the day or booked ahead of time. THESE WOULD NOT BE INCLUDED IN THE 2 CLASSES PER DAY LIMIT.
No fee would be payable to TD Office for fun classes.
I hope that you understand my reasons for this decision.
Jacky Ruddock
Rule Amendments for Trial Hosts
Class Fees
The current system for calculating class fees has, in the past, led to confusion and disagreement. I have spent time juggling figures and, in order to make it fair to all regardless of the size of trial and number of classes, the fees will currently be calculated at 50p per entry
Therefore for a trial with 40 entries -£20 and a trial with 180 entries- £90
This will hopefully be easier to calculate and encourage hosts to schedule a wide range of classes to cater for all.
The Trial Registration Fee should be submitted with the Trial Application Form but the Class fees can be paid either before or straight after the Trial.
Judges' Travel Expenses
Our judges do a fantastic job but often have to travel long distances and fund a night or two in a local B and B in order to attend a trial. At the current time a judge can apply to TD for a mileage allowance towardstravel expenses. This is a huge drain on TD and frequently means that the organisation runs at a loss. In the future, hosts will be expected to-
Check with the particular judge prior to appointment whether she will require a travel allowance. Not all judges claim.
Add a small sum to each entry fee to cover this- suggest 50p per entry. Pop this money into an envelope and hand to the judge on the day.
A judge will understand that a small trial will not be able to fund her full mileage and can apply to T.D for a top-up if required.
Hosts very generously give gifts to judges, which, whilst appreciated, are not, expected, particularly if the judge has claimed mileage.
If the host feels unable to fund mileage she should approach an alternative judge. Jacky will advise further if no other judge is available.
In the pipeline- what I'm doing!
Currently in the process of training new judges to add to our limited pool.
Finalising a Veteran L3 Class that will be up and running in 2020.
Looking beyond- Level 4? A work in progress
Any questions and comments please speak/e-mail me. Look forward to hearing from you all!
All the best,
Jacky
Blog and photos from IOW Trial 8/9 June '19

What wonderful times we shared on the Isle of Wight last weekend. I was seriously concerned that I wasn't going to make it over on the Saturday 5 a.m. ferry as the wind blew and waves lashed the harbour. The weather made it a tricky day for the dogs who had to cope with flapping ring plastic, periodic heavy gusts of wind and a judge in a strange woolly hat! In contrast Sunday was a beautiful day, the shorts were on and spectators sat around clapping teams as they worked.
I'm always impressed by the standard of work on the island and this weekend didn't disappoint. We really do have all shapes and sizes of dog compete ranging from Chihuahuas to Chesapeake Bay Retrievers and a Tibetan Mastiff. There were some great rounds, particularly from those fairly new to the sport, Sue with Nelson, Jacqui with Stan and Helen and Maggie all Titled at L1 and impressively all gained AOEs. I was particularly impressed by Lisa working her gorgeous Labradors, Rocco and Finlay. Lisa is such a kind gentle handler and her calmness results in consistently Ace results with her boys.
We had 4 Perfect scores- I think that may be a record! Congratulations to-
Jenny and Bob at L2
Ruth and Cassie at PL2
Sonya and Edward at L1 and Sonya and Dibladob at Puppy Level.
Welcome to Kristy and her Spanish Water Dog, Quinn who only registered with TD a couple of weeks ago and had a successful weekend culminating in a Puppy Title.
My final mention must go to the little Whippet-X, Rumble and her handler, Deborah. What a fantastic little dog; everyone loved watching her carefully prancing her way around the course. She certainly charmed this judge!
My usual thanks to Barbara, Tessa and the team who work so hard to make everyone feel comfortable and extremely welcome. You really do an amazing job and I always return home a couple of pounds heavier! See you all in September if not before.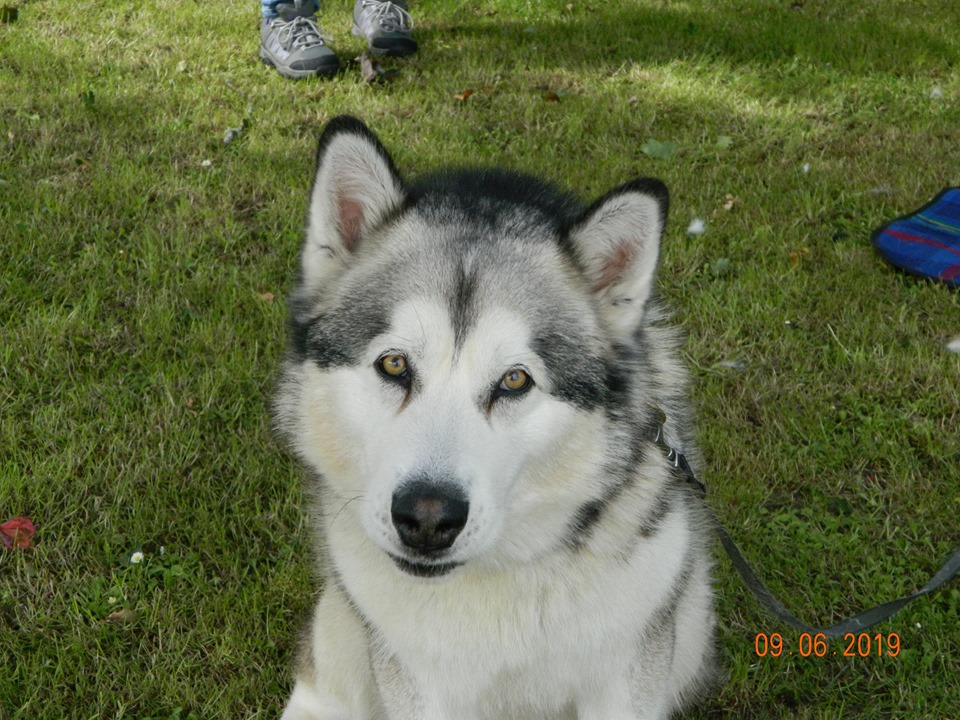 Report from Judge Amie Bedlington Trial 28 April 2019 (Photo on our front page)!
It was with some apprehension that I made the journey North to Bedlington. Although I had stepped in to judge at the last minute at the Risby trial in February, this was my first official judging appointment; but I needn't have worried because Cris and the Ruff Diamond teams made me feel very welcome. Everything was ready when I arrived at their indoor venue, so all I had to do was set out my course.Both the morning and afternoon rounds were of high quality and it was clear to see just how much everyone had been practising in preparation for the trial. In particular, the pivots were spot on. Both those who had competed before and the first timers did themselves proud. One round that really stands out was with Georgina and Nelson, who took teamwork to the next level. Arriving at the 270 Left, Georgina looked at Nelson, Nelson looked at Georgina, both confused. After a small amount of flapping, they decided it was best just to move on. A good decision! Other rounds that stood out were Jane and Edric's because despite being a shy boy, Jane supported him to gain an Ace in each of their rounds, and Katie with Rory, who were competing for the first time and did a great job. Most of the stations were pretty bang on, with only the pace stations needing some work. I know that while it might seem to the handler that they are slowing down or speeding up, when watching the dogs, that wasn't always the case. I was pleased to be able to present so many rosettes, including two Level 1 Champs to Emma with both of her dogs Wilf and Zara. Huge thanks to Cris and her helpers for running such a well organised trial. I look forward to coming back, and hopefully awarding Cris with the Ace Perfect that she just missed out on this time!
What a great way to start 2019 – in January we registered our 1000th dog!
Tilly is a 1 year old Labrador who lives on the Isle of Wight. She is now TD Rally® royalty, so make sure to say hi to her and her handler Vivienne when you are lucky enough to meet them at trials and events.
Risby Trial
Our first trial of the year was held in Risby at the start of February. Hosted by Lucy Dawson and ably assisted by so many wonderful and selfless helpers. Their dedication was put to the test when judges Tanya and Rhia, after judging on Day 1, had to rush home for a family emergency. Without hesitation, three judges who were at the trial to compete, immediately stepped in to cover the classes on day 2. Amie, Jacky and Rebekah were the heroes of the day and we are all so grateful for their support.
Held indoors – no freezing February rounds – everyone had a great weekend. Dogs and handlers did themselves proud, setting up a super successful 2019 season.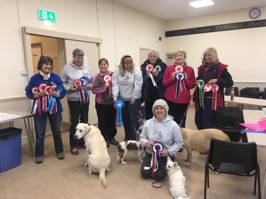 ANNUAL MAINTENANCE FEES

The season has started, but not everyone has paid their fees yet. No fee = no official rounds. If you slip through the net and do compete without having paid your fee, your round will not count towards any awards. These fees are crucial to help fund our sport. Without them we can't run TD Rally®, so thank you to everyone who continues to support us. We couldn't do it without you!
If you are still to pay please contact Jacky for further details.

Talking Dogs Rally®is a registered trademark.