This page brings news of Talking Dogs Rally® workshops throughout the country. If you are holding a Talking Dogs Rally® workshop, let us know and we'll let everyone else know! This page will be your main source of what's happening and where, so contact Jacky at the Talking Dogs Rally Office to let her know what's happening in your area.

Please supply full, accurate details, photos and information for your event.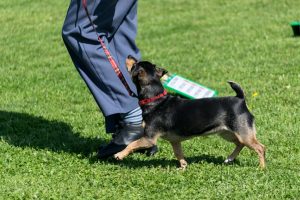 Tanya (Angleywood Canine Services) runs regular TD workshops for all levels at Brenzett Village Hall, Kent. Further details on her website. Contact details on our Training Classes page.
Check out this great learning resource- Dog Activity Spot on FB
Dog Activity Spot presents TD RALLY® ! If you are interested in Talking Dogs Rally® and do not know where to start, start with Dog Activity Spot. Here at Dog Activity Spot I have been training Talking Dogs Rally® for over 7 years and love training this activity with clients as well as my own dogs. So I have created a Dog Activity Spot TDR® Level 1 training/reference hub via a private group on FB to give newbies as well as experienced Rally handlers a reference guide. This group is set up as a learning group and is build in easy to follow units. All TDR® Level1 station signs will be listed with photo, description as well as demo video for each single station sign. Additional to that there are links to relevant websites and fb page, how and where to start with trials, with info about progression and awards as well as relevant training exercises to help with station performance. All that material will be available for just a one off payment of £25 as an EARLY BIRD offer when you sign up till end of February 2021. To sign up please message me via this page for payment confirmation. Access to the group will be granted within 48 hours after receipt of payment.
Talking Dogs Rally® is a registered trademark